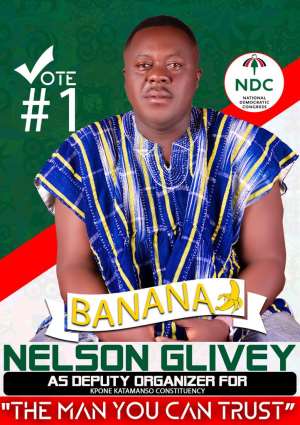 True leaders arise in times of need and whilst the aspiration to leadership is a noble ambition, the perverse and customized demonstration of leadership in recent times makes the concept an unwelcomed topic, especially in Africa. It is however a requirement of nature for true leaders to arise in times of need to lead a group, a community, and even a country from the hurly-burlies of life. Such leaders are not only scarce to come by but are humble and possess listening ears.
The ongoing constituency elections in the major opposition party, the National Democratic Congress has seen many vying for different positions at the constituency level. One person who stands out for the deputy organizer position at the Kpone Akatamanso constituency is Mr. Nelson Glivey. He not only epitomizes leadership but is competent enough to lead the National Democratic Congress members in the constituency in their organizational activities.
Banana as he is popularly called has affected the lives of both young and old through his benevolence activities. He has always been determined to see poverty eradicated and humanity raised even in the eyes of the gods themselves. Mr. Nelson Glivey sees his quest to be the deputy organizer for the Kpone Katamanso constituency as an opportunity to contribute to the development of the constituency. With a wide range of influence with the business community both at home and abroad, he stands tall among the others. A vote for nelson is a development.
VOTE MR. NELSON GLIVEY, VOTE BANANA.