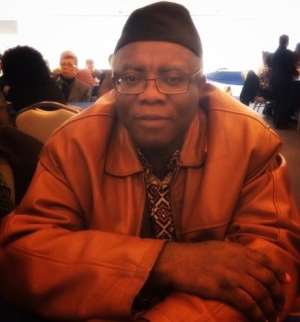 They are frenetically preparing to, once again, install a Bole-Bamboi family government at Jubilee House and engineer another SADA gravy-train scam at the expense of Ghanaian taxpayers. Which pretty much explains why some unabashedly pro-National Democratic Congress' journalists seem to prefer to "innocently" and "benignly" describe Mrs. Joyce Bawa Mogtari, the Mahama first cousin and former Deputy Minister for Road Transport, simply and deceptively as "a Special Aide" to the former President. But, of course, those of us intent on ensuring the creation of a level playing field in the runup to the 2024 General Election feel duty bound to expose this strategic shenanigan. In short, Kwame Gonja will not be allowed to get away with such politically unwholesome mask of exceptionalism or special pleading. He does not deserve it. It will not wash. No, not in a million years!
Indeed, the National Democratic Congress' unconscionable pack of hoodlums may have gotten away with the constitutional condonement of the Indemnity Clause-hobbled 1992 Republican Constitution. But not this second time around. Trust me, Ghanaians have come too far into the game of positive and constructive democratic engagement to allow a few gangs of rascally kleptocrats to, once again, get away with murder. We also need to highlight the politically significant fact that by her own confession, for the better part of two years, Joyce Bawa Mogtari, whose husband also served in an executive administrative capacity as the Director of one of the government agencies, drove around our nation's capital and the rest of the country without a driver's license, even as her cousin President John "European Airbus Payola" Dramani Mahama launched an all-out national campaign against unlicensed motorists by having hundreds of unlicensed drivers arrested and imprisoned without bail, as well as being slapped with hefty fines.
Now, we can talk about corruption and nepotism and gross administrative incompetence, especially vis-à-vis Mrs. Mogtari's bitter complaint at the time that the Driver and Vehicle Licensing Authority (DVLA) was taking too unusually long to process and issue drivers' licenses to legitimate applicants. Which all boils down to the very fundamental question of leadership credibility, a moral and behavioral conduct that has time and time again been more than amply demonstrated to be sorely lacking in the official dealings of both Mrs. Joyce Bawa Mogtari and former President John "Akonfem-Kanazoe" Dramani Mahama. As well, vis-à-vis the question of whether, indeed, Osagyefo Dr. Kwame Gonja took home the criminally humongous ex-gratia sum of GH₵ 14 million, the largest of its kind in the entire history of Fourth-Republican Ghana, as publicly alleged by Mr. Kwame Baffoe – aka Abronye DC – the Bono Regional Chairman of the ruling New Patriotic Party, in 2013 or thereabouts, remains for the respondent to prove beyond any iota or shadow of doubt.
The case or allegation has been made by the forensically unimpeachable Mr. Kwame Baffoe, who has also backed the same with the morally and economically outrageous figure of GH₵ 14 million. Now, the onus is on the former President and his so-called Special Aide and their kleptocratic cronies and associates to back up their vehement protestation with the real cedi-sum figure of what the accused had, in fact, taken home at the aforesaid time that his accuser claims that, indeed, he had. The accuser's allegation is herein deemed to be forensically unimpeachable because, to date, Mr. Mahama has yet to back up his promise to successfully defend himself in court over another serious allegation made against the former President, to the quite damning effect that as the extant Vice-President, Mr. Mahama had a hand in the widely alleged and popularly regarded palace assassination of then-Sitting President John Evans Atta-Mills. The aforesaid vow or promise was made on behalf of the accused by Mr. Mahama's lawyer, Mr. Anthony "Tony" Lithur. Now, that was more than two years ago, if memory serves yours truly accurately. Which makes Mrs. Mogtari's rather disdainful and cavalier characterization of Mr. Baffoe's allegation as the "unintelligent rants" of an erratic political opponent downright preposterous and an inexcusable insult to the intelligence of all well-meaning and civically responsible Ghanaian citizens.
Which also means that, to be certain, whatever credibility deficit may be legitimately envisaged to prevail here is definitely on the part of the Mahama Posse, and not on the part of the accuser. It is also patently untenable for the Mahama camp to refer interested persons to either contact the Chief-of-Staff of the Akufo-Addo Presidency or the Controller and Accountant-General's Department. That is the sort of bureaucratic red tape that absolutely nobody with something meaningful to do with their precious time has patience for. You either took the aforesaid money home and into your bank account or you did not. Period. In short, all that the Mahama campers have to do is to simply produce any receipts that they may have in their possession indicating the real cedi sum of ex-gratia that our protagonist had taken home in 2013 and stop beating about the bush, in cliched Ghanaian street parlance.
Throwing out the red-herring promise of having the next National Democratic Congress' government review the emoluments of Article 71 Office Holders does not answer Mr. Baffoe's straight-forward question. Even more significantly, there is absolutely no guarantee of Yagbonwura Kwame Gonja's being ceded the Presidential-Nomination Ticket of the National Democratic Congress in the runup to the 2024 General Election. so, I guess we can all aptly rest assured that, really, the only "unintelligent rants" here is that which is coming from Mrs. Joyce Bawa Mogtari, the first cousin triplet-nursing mother and so-called Special Aide to Osagyefo Dr. Kwame Gonja.
*Visit my blog at: KwameOkoampaAhoofeJr
By Kwame Okoampa-Ahoofe, Jr., PhD
English Department, SUNY-Nassau
Garden City, New York
September 26, 2022
E-mail: [email protected]