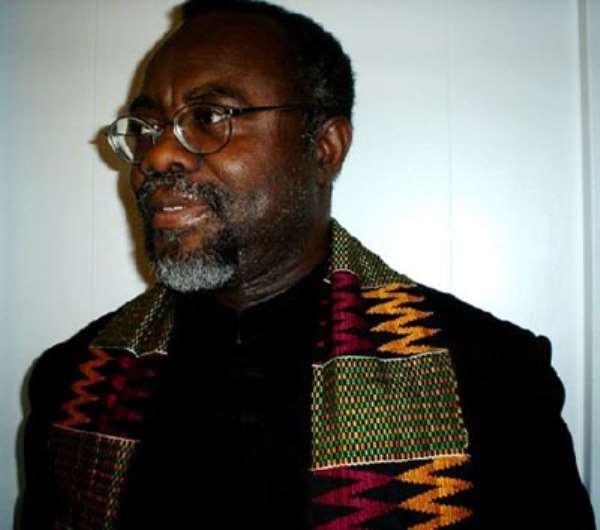 In this segment, we shall address two nagging issues of critical interest to Ghanaians, both at home and abroad, as well as global and continental Africans in general. The first regards the insistent, albeit baneful, prevalence of some primitive and outright barbaric ethnic rituals in the country; while the second issue regards the controversial question of whether former pseudo-civilian premier Jeremiah John Rawlings, after two decades of abject misrule, bequeathed Ghanaians with any legacy, civic or political, worthy of discursive significance or moment.
It goes without saying that the two foregoing themes or issues are inextricably interlinked insofar as postcolonial Ghanaian politics is concerned, more so because six years into his constitutional ouster, Mr. Rawlings continues to rave and rant about having supposedly left the political landscape of Ghana in a far better shape than when the former Air Force pilot and career coup-plotter forcibly assumed the reins of governance. And here, it may be recalled that the founding chieftain of the so-called National Democratic Congress (NDC) vaunts, rather vacuously, of being a revolutionary, invariably citing the indubitably benighted and ethnocentric June 4, 1979 butchery as his inviolable claim to fame and sainthood.
If, indeed, Mr. Rawlings is the kind of moral and political revolutionary that he claims to be, then one salient question that ought to be asked is: Why did his twenty years in power not stamp out the odious practice of "Trokosi," a ritualistic practice of modern-day slavery which is rank and prevalent among the Ewe community in Ghana? And here, we also relevantly must add the fact that Mr. Rawlings is partly of Ewe-Ghanaian extraction; and to be certain, his claim to Fourth Republican constitutional premiership stemmed from this fact of his partial Ewe extraction. And here also, we emphasize the civic adjective of "partial extraction" because during much of the 1980s, when he ran the country as a de facto dictator, Mr. Rawlings bitterly and disconsolately lamented to Ms. Diane Sawyer, the renowned American television personality, the fact that his expatriate Scottish, ex-colonial official father had summarily abandoned Flt.-Lt. Jeremiah John Rawlings among a people with whom the then-chairman of the so-called Provisional National Defense Council (PNDC) had little or nothing in common.
And, indeed, it may be equally significant to observe herein that his whole protracted and regressive political behavior appears to be squarely predicated on the perception of Mr. Rawlings' desertion by his father. And like many mixed-race individuals, the man exhibits telling signs of psychological dislocation - what might be aptly termed, in clinical parlance, as a crisis of identity. Which is why even as a military head-of-state, Mr. Rawlings was reported to have taken an unofficial trip into the ragged Scottish Highlands in search of a father who neither recognized the former as his son nor even respected the historical fact of Little Jeremiah being a quite successful coup-plotter.
Unfortunately for Mr. Rawlings, those of us who have studiously tracked his fortunes during the course of nearly three decades know the man far too much to mistake him for a revolutionary of any cut of cloth or caliber. We simply recognize the man as none other than a veritable knave, a rogue, an unprincipled opportunist disguised, rather badly, as a populist humanitarian.
Indeed, earlier this year (2005) when a news article titled "Trokosi System Condemned" was posted on Ghanaweb.com (1/13/05), many of us wondered what Mr. Probity and Accountability had done during the twenty years that he held political sway in Ghana, during which period he either executed or spooked out of the country any citizen deemed to be morally reproachful, corrupt and regressive. And interestingly, as we intimated at the beginning of this essay, "Trokosi" is the lurid practice of ritual servitude among the Ewe people of Ghana and elsewhere in the West African sub- region. And here, it may also be aptly recalled that in the wake of his election as United Nations Secretary-General, Mr. Kofi Annan's name and nationality came up for vitriolic carping in the New York City press by some journalists who had been apprised of the fact of the unsavory existence of "Trokosi" in Ghana. And to the largely cosmopolitan psyche of American media practitioners, the fact that Mr. Annan was of Fante-Akan, rather than Ewe, extraction did not matter. Neither did the fact that the practice being vehemently condemned was transpiring, or taking place, under the eagle eyes of an Ewe head-of-state matter to any New York journalist or reporter. The mere fact of Mr. Annan's Ghanaian nationality made him inextricably culpable.
And so it is quite interesting to hear Mr. Rawlings bragging loudly about his supposedly impeccable moral achievements, even as the raw and earthy truth of "Trokosi" smacks him upside the head. Or maybe the man does not even have a head to speak of.
In the aforementioned "Trokosi" story, the arch-devotee or priest of an Ewe shrine located in the Greater-Accra Region of Ghana was demanding the rather retching offer of the remains of a man and the latter's living 12-year-old son to be both committed to "a lifetime [of] servitude in atonement for the alleged sins of the deceased"(Ghanaweb.com 1/13/05). And here one can only speculate about how a dead man's "lifetime [of] servitude" could actually be reckoned, or calculated, by the traditional keeper of any shrine. But then, again, since this writer is neither an expert nor practitioner of traditional Ewe religious culture, perhaps it is only too apt to leave it to Mr. Rawlings to explain the preceding to our audience and the rest of the global community.
Secondly, the imperious demand for the 12-year-old son of Mr. Paul Dzivor, the deceased, is quite curious, to say the least. But here also, we must humbly defer the apologia of "Trokosi" to Mr. Rawlings - for perhaps there is something progressive about "Trokosi" that the rest of us ought to learn.
The preceding notwithstanding, we also heartily acknowledge the salutary and opportune intervention of the Trokosi Abolition Fellowship International (TAFI), a non-governmental organization, as well as that of the Acting Eastern Regional Director of the Commission on Human Rights and Administrative Justice (CHRAJ). We also solemnly urge the ruling New Patriotic Party (NPP) to make a significant electoral issue of "Trokosi," in view of some of the preceding observations.
The second issue, regarding the question of whether, indeed, the twenty protracted years of P/NDC stranglehold left Ghanaians better off than ever before, also appeared as an editorial posted on Ghanaweb.com (12/14/04). Risibly titled "Rawlings' Legacy," and culled from the Gambian Daily Observer, the article rather unimaginatively lauded Mr. Rawlings for having purportedly "led Ghana out of a near famine situation in 1982/84 into a prosperous period from the early 1990s when Ghana became a role model for [the] successful implementation of Structural Adjustment Programmes."
Needless to say, either the aforementioned editorial was written by a clinical idiot or an organism from the proverbial outer-space. For it blatantly fails to mention that Mr. Rawlings' main pretext for ousting Dr. Hilla Limann's People National Party (PNP) was the former's quite sensational allegation that the latter was on the verge of implementing an IMF-ordered Structural Adjustment Programme, the exact, same plan deviously and impudently implemented by the PNDC barely two years after the latter's overthrow of the PNP.
And so why did Ghanaians tolerate Mr. Rawlings's SAP "model"? Quite simple. Ghanaians did not tolerate it as such; rather, it was summarily forced on them, at gunpoint, without any democratic recourse or the progressive benefit of a referendum. And for good measure, the PNDC had meticulously orchestrated the Mafia-style execution of three independent-minded Ghanaian High Court judges in order to eloquently drive home the fact that the PNDC had no respect, whatsoever, for the rule of law. Interestingly also, the Gambian Daily Observer editorialist does not tell his/her readers just how Ghanaians survived the rest of the lean period of the 1980s, before the purported period of prosperity "from the early 1990s." And while the editorial writer appears fair enough to point out that in 1979, Chairman Rawlings "publicly executed three former presidents and senior government officials without a fair trial for alleged corruption," the writer woefully fails to add that when he seized power for the second time on December 31, 1981, Flt.-Lt. Jeremiah John Rawlings derailed Ghana's electoral democracy for the next two decades. In effect, Ghanaian politics is at least twenty long years behind schedule, in terms of the kind of political culture bargained for by our Founding Fathers, the proverbial BIG SIX.
Furthermore, the Gambian Daily Observer's logically addled editorialist writes: "When the pressure for the restoration of democracy mounted, Rawlings accepted the popular yearning for multi-party rule and organized and won two elections in 1992 and 1996. In 2000, he joined the shortlist of African leaders who have willingly handed over power"(Ghanaweb.com 12/14/04).
Needless to say, it is this kind of visionless and cynical journalistic collaborators who are to be avoided, at all costs, on the African continent. Indeed, such pocket-book media practitioners have absolutely nothing to offer their primary audience short of misery and intellectual and cultural regression. And needless to say, "Rawlings' metamorphosis is[,] indeed[,] [not as] incredible" as the Gambian Daily Observer's editorialist would have her/his readers believe. Rather, it is the apparently unbounded tolerance of Ghanaians that is incredible. To be certain, Mr. Rawlings's arrogance is only rivaled by that of President Nkrumah who, once upon a time, wrote a book flamboyantly titled Ghana: The Autobiography of Kwame Nkrumah. *Kwame Okoampa-Ahoofe, Jr., Ph.D., teaches English and Journalism at Nassau Community College of the State University of New York, Garden City. He is the author of nine volumes of poetry, including his just-published collection titled Nananom: Foremothers, all of which are available from iUniverse.com, Amazon.com, Powells.com, Borders.com and Barnes & Noble.com. Views expressed by the author(s) do not necessarily reflect those of GhanaHomePage.