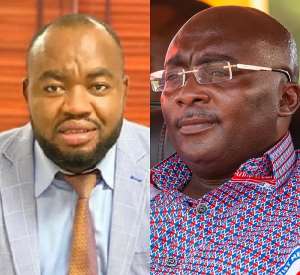 Mohammed Adam Sukparu, the Member of Parliament (MP) for Sissala West has said Vice President Dr. Mahamudu Bawumia's digitalization lectures are pointless.
According to the MP, the claims by the Vice President at the lecture on digitisation at the Ashesi University is evident that he has failed as head of the economic team.
According to him, the Vice President has shifted his energy to digitisation as an easy way to repair his damaged image and lost credibility.
"This particular lecture is something that I cannot make a head or tail out of it. Dr. Bawumia is struggling to redeem his credibility, he is suffering from credibility crisis," Mohammed Adam Sukparu told journalists in Accra on Tuesday.
Hon. Mohammed Adam Sukparu has also indicated that the New Patriotic Party has failed the country with deceit.
"What explanation can President Akufo Addo-Bawumia administration offer for failing to decisively tackle the sinking economy, insecurity, increasing youth unemployment in the country, despite the huge resources at their disposal?
"When they were in opposition, they say they will not borrow but today, they have borrowed more than any government since independence," the MP shared.
The Vice President of the Republic of Ghana, Dr. Bawumia earlier this month delivered a lecture at the Ashesi University where he outline the gains of the digitisation agenda championed by the ruling government.
The lecture was held on November 2, 2021, on the theme "Transforming an Economy Through Digitalization: The Ghana Story."