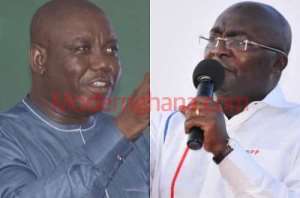 Member of Parliament for Bolgatanga Central, Isaac Adongo has challenged Ghana's Vice President, Dr. Mahamudu Bawumia to bring out Ghana's Blue Print on digitization if there is any.
He said the Vice President has hijacked technological projects under some government agencies' and pretended as if he is the brain behind them.
Mentioning Ghana Post, Interoperability and paperless port as examples of projects forcefully hijacked by the Vice President, Hon. Adongo wondered why the one time 'Economic Messiah' is no longer interested in the country's economy for which he was touted and has suddenly turned attention to digitization projects developed and run by some government agencies.
" ... Dr Bawumia has run away from touted economic expertise to talk about Ghana Post, Interoperability and Paperless transactions at the Port, but the actual economic prowess he was touted for which Ghanaians trusted him for has been abandoned.
"You are rather fronting the achievements of others but the economy that you studied and rose to the point of a lecturer and a doctorate, you have stopped talking about it. Dr. Bawumia is now championing someone's brainchild called digitization; he is taking credit for a blueprint he did not develop," he ridiculed.
Speaking to Kwame Nkrumah Tikese on Okay FM's 'Ade Akye Abia', Hon. Adongo noted that Ghanaians must insist on Bawumia to address the rampant economic challenges bedevilling the country.
"We are about preparing our budget, we can't feed ourselves, we cannot buy fuel, government is overburdened with debts and does not see the way out of paying back, foreign investors are selling their bonds due to fears about Ghana's inability to pay her debts. Government promised a lot of things but cannot raise the finance to fulfil its promise…but you are coming to talk about someone's brainchild."