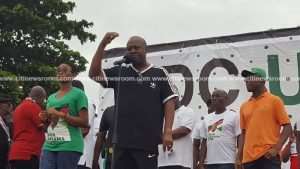 The autocratic and cynical noises being made by the reprobate likes of Messrs. Edwin Nii Lante Vanderpuye, Kofi Adams and Joseph Yamin about the likelihood of former President John "European Airbus Payola" Dramani Mahama's being allowed to contest the 2024 Presidential Election unopposed is mere hot-air blowing and toadying up to a criminally and grossly incompetent has-been and also-run candidate that will decidedly not amount to the proverbial Hill-of-Beans (See "An Open Letter to Mr. Kofi Adams" Ghanaweb.com 10/1/21). It will come to naught because this viciously and criminally calculated evisceration and/or abortion of the democratic process has been tried and tested before by the kleptocratic and self-serving Johnson Asiedu-Nketia Gang and controlling-Faction of the country's main opposition National Democratic Congress; and, predictably, it did not even work half the wonders that its architects had expected it to do.
Indeed, as yours truly vividly recalls, it was in the leadup to the 2016 Presidential Election, when an NDC constituency youth organizer and polling station agent at Oyarifa, in the Greater-Accra Region, picked up nomination forms to contest the hitherto unopposed Presidential Candidacy of an incumbent President Mahama, to the amazement and great embarrassment of Mr. Asiedu-Nketia, popularly known as General Mosquito, the dynastic General-Secretary of the National Democratic Congress. The name of the Mahama Challenger was Mr. George Boateng. He was 45 years old at the time. Today, Mr. Boateng will be 50 years old. That he was summarily expelled from the National Democratic Congress is of far less significance than the reasons given by Mr. Boateng for his "unorthodox" decision to give President Mahama the proverbial run for his money.
In essence, the Mahama Challenger bitterly complained that his party's powerful and filthily moneyed 2016 Presidential Candidate had miserably failed the 50,000, or so, registered voters whom the Justice William Atuguba-presided panel of Supreme Court of Ghana (SCOG) Adjudicators who presided over the 2012 Akufo-Addo-filed Presidential-Election Petition, dubiously claimed had provided the fiercely disputed victor with the requisite razor-thin edge margin of votes to comfortably occupy Jubilee House or the Presidency. Mr. Boateng, at the time, also virulently accused the man that he was seeking to replace at Jubilee House of gross administrative incompetence, which Mr. Mahama's Challenger insisted had effectively ground Ghana's economy to a virtual standstill. In the main, Mr. Boateng pointed to the unprecedently high rate of youthful employment as a striking evidence of Mr. Mahama abject lack of managerial skills and talent. Which was why, recently, when the former President smugly and pompously asserted that he could teach President Akufo-Addo how to solve the high unemployment problem in the country, I almost called my neighborhood ambulance service to ferry me to my cardiologist.
Some five years on, the very same Ghanaian voters who had delivered an incumbent President Mahama his irreparable defeat, to the humongous tune of more than One-Million Votes, would, once again, butt-slam the former Communications Minister in the democratically elected government of the late President Jerry John Rawlings into the humbling chair of Political Opposition Leader. This time around, Comrade Mahama's margin of Waterloo, as it were, had been relatively mercifully halved by a Half-Million Votes. It very well may be this relatively impressive margin of defeat that has hoodwinked Candidate Mahama into deliriously believing that the more he quixotically jumps into the fray to vacuously contest the validity of his two massive defeats in the polls, the better his Chinaman's chances of being eventually returned to Jubilee House might be.
Of course, he is grossly misled because the logic behind Mr. Mahama's desperate bid to be returned to Jubilee House, so that he could, once again, pull up his thievish and kleptocratic antennas and wantonly cream our National Treasury, is almost wholly predicated on PUBLIC AMNESIA, rather than the concrete record of his past political and administrative performance. You see, the Savannah Region native cannot credibly hope to pull an Akufo-Addo "hat trick," reversibly speaking, of course, because unlike his far more astute, talented, visionary and mature successor, the politically desperate and delirious Mr. Mahama has already been tried and tested by Ghanaian voters and roundly and resoundingly rejected, twice, at the polls – actually thrice, if we count the Atuguba Steal of 2013 – because he had clearly not creditably acquitted himself.
What is more? In 2024, Candidate Mahama is apt to face off against an incumbent Vice-President who has a proven track record of remarkable economic development achievements in all facets of our national endeavors, most especially in the critical area of computer information and entrepreneurial technology, vis-à-vis the conduct of commercial and business transactions, as well as the radical upgrading of the country's public education system. In other words, whether any major Presidential Candidate gets named Chief Resident of Jubilee House will pretty much be preponderantly dependent on that candidate's established performance track record at the helm of our national affairs, and not merely because that concerned candidate has been desperately and fiercely fighting for the longest time around to be returned to Jubilee House. This is the missing puzzle in the political equation and comeback strategy of the leadership of the Mahama-led National Democratic Congress.
*Visit my blog at: KwameOkoampaAhoofeJr
By Kwame Okoampa-Ahoofe, Jr., PhD
English Department, SUNY-Nassau
Garden City, New York
Oct. 2, 2021
E-mail: [email protected]