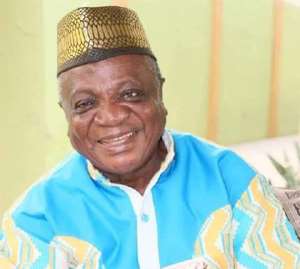 It was just a matter of time before I retold the already twice-told story that I glancingly alluded to at the beginning of the initial installment of this multi-part column for the third and final time. You see, I first regaled my readers with this very story for the first time around in the wake of the epochally seismic passing of the legendary Mr. Jerry Hansen (1927-2012) of Ramblers International fame. And then, not very long after the latter's transitioning into eternity, at 85 years old, I was saddled with another equally compelling occasion to retell pretty much the same story, once more, in the wake of the passing of Highlife Linguist or Spokesman, the inimitable "Osoode Kyeame," Mr. CK Mann, privately and fully known as Charles Kofi Amankwaa Mann (1936-2018), of Cape Coast. Cee Kay Mann transitioned at 82 years old. And now, Nana PSK Ampadu at 76 years old. There is an eerily uncomfortable pattern here which compels me to disconsolately declare with wistful fortitude that jaded old saying that, at least relatively speaking, "God loves those who die young." Of course, we all know far better than that; which is that in actuality, it is those who die very old or reasonably old that Divine Providence most dearly loves or loved, when one considers the biblical human lifespan of 70 years and then 10 or more years of grace, for good measure, for those doubly blessed by His Eternal Eminence. The pattern that I am talking about here is, of course, the apparently systematic declination in the life-expectancy mileages of the Giant Trio of the Highlife Pantheon, according to the order of natal youthfulness.
Of course, there have existed and transitioned dozens of remarkable and notable Highlife Artists like Paapa Yankson, Agyaaku and Ogyatanaa's Mr. Kwadwo Donkor, who dexterously and deftly combined a successful career as an International Diplomat with a very competent production of Highlife and a musical artistry that my late father, Prof. Kwame Okoampa-Ahoofe, Sr., himself a remarkable musician, composer and a versatile instrumentalist in his own right, greatly admired. The preceding notwithstanding, it goes without saying that when it comes to the symphonic art of "Storytelling Highlife," Nana Kwame Ampadu, I, was absolutely without compeer or any coequal in the Pantheon of Highlife Maestros and Legends. Well, the story that I have been waiting to retell or retail for the third and final time occurred exactly a half-century ago, almost to the month. It was in October 1971, as my late father prepared to depart Ghana for the United States of America from the present-day School for the Performing Arts – formerly called the University of Ghana's School of Music and Drama – where he had been named Technical Director by the great Pan-Africanist Musicologist and immortalized Sociocultural Anthropologist Prof. JH Kwabena Nketia – for graduate studies on the main Madison Campus of the University of Wisconsin, in America's Mid-Western Region.
Well, about a couple of weeks before the old man departed the then clean and comfortable sandy beaches of Ghana, my father went hunting for some vinyl photographs of the kinds of local Ghanaian music that he thought he was apt to greatly miss along with him. He would also take along with him to the United States, and old Grundig tape recorder of the spools or brown-tape spooling kind magnetically packed with a humongous number of dozens of Ghanaian Highlife songs; actually, it would be far more accurate to call them West-African Highlife Songs, for the spools also contained such Nigerian legends as Victor Olaiya and Sir Victor Uwaifo and the so-called Juju Music, among an assortment of other pieces. Then, finally, he bought three Long-Playing vinyl phonographs containing the classical songs, that is, the "Big-Band Songs" of Jerry Hansen and his Ramblers International Band. (The old man may very well have also had the classical orchestral pieces of E T Mensah's popular and much-revered playbook Highlife perennials, such as "All for You" on one of the spools of his Grundig tape recorder). Then C K Mann's "Party Time with Ceekay," as I vividly recall, with the front-sleeve photograph of some five bare-chested members of his band. And then, of course, Nana Kwame Ampadu and his African Brothers' International Band, respectively.
"Araba Lucy" is the C K Mann song that reminds me of my late father the most. But, of course, there are such equally throbbing and mesmerizing wavelike rhythms of C K Mann and his Carousel 7 Band such "Nyimpa Rebre," "Asafo Beesuon," "Medo Wo," "Mawerekyekyere," "Mato Aboa" and "Adwoa Yankey." In the case of Jerry Hansen and the Ramblers' International Band, we have such classic perennials as "Ama Bonsu" and "Alome," my personal favorite and one of the few non-Akan songs whose meaning I have learned to keep at my fingertips; for, ultimately, death is our all-inclusive destination of existential finality. Indeed, as my maternal grandmother was fond of saying in moments of distress, especially in the wake of learning about the death of a relative or a well-known acquaintance, "Death is our one universal journey." And then there are Mr. Hansen's "Agboo Ayee," "Akwanoma Hiani," "Mpae Bo Na Ehia" and "Nyame Ne Nhyehyee." And then, "Obra," the song that most of his fans and critics consider to be the greatest single composition by Daasebre Nana Kwame Ampadu, I; and then, of course, we have the Maestro's satirical political classic "Ebi Te Yie" and the Cinderellaesque "Aku Sika" and my own personal favorite, "Owuo Nnye" and "Kofi Nkrabea." These Highlife Giants, the old man would earnestly confess to his 10-year-old younger son, were the musicians he was most likely to miss while he undertook his graduate studies at the University of Wisconsin's Madison Main Campus in Theater and Lighting Technology, the very first Ghanaian to do so or to be so professionally trained.
For my father, "Coming to America" – my profound apologies to famed actor-comedian Eddie Murphy and his blockbusting movie of the same name or titles - was a seismically game-changing academic and professional upgrade, although in recent years, I have also constantly wondered whether the old man would not have suffered far less stress and lived a much longer and richer life, if shortly after he obtained his Master of Arts Degree in Theater from Wisconsin, he had promptly returned home and continued with his pioneering work in Theater and Lighting Technology at the University of Ghana, where he worked as Technical Director at the then School of Music and Drama, presently the School for the Performing Arts. This, of course, is not an easy question to puzzle out, knowing the kind of morally, politically and socioeconomically deleterious and regressive developments that have transpired in the country since 1982, especially the decidedly chaotic period marked by what became known as the apocalyptic era of the Rawlings Revolution and its concomitant of the straitjacketed Bretton-Woods establishment-engineered Structural Adjustment Program (SAP).
At any rate the "King of Highlife," as Nana Kwame Ampadu was widely known and acclaimed, was a veritable human institution in far more than his own right whose image and iconic reputation far transcended the relatively circumscribed shores of the West-African Subregion, as I told some of my students a couple of days ago. In the late 1980s, for example, Nana Ampadu was featured by New York City's PBS-TV – the Public Broadcasting System – together with several other Ghanaian musicians, including the Neo-Traditional Maestro by the name of Agya Koo Nimo (Mr. Daniel Amponsah), of the Kwame Nkrumah University of Science and Technology (KNUST), a professionally trained lab technician and scientist. The program featured some of the best-known pieces of these musicians, in particular vis-à-vis how their music reflected their existential philosophy. At end of the show, the old man delivered a quite compelling verdict in favor of his old friend, especially in view of the fact that Daasebre Nana Ampadu, unlike Agya Koo Nimo, for only one striking and memorable example, had not been privileged with the kind of professional and academic opportunities granted his much senior fellow musician.
You see, so generously was he endowed with the flair for music, especially musical composition, that with the Okwawu- (Kwahu-) born and bred but Akyem-descended Maestro, the highly sophisticated art of the Philosophy of Highlife came as a matter of course. That is, a natural inclination that was inimitably uncoaxed. With the legendary Daasebre Nana Kwame Ampadu, I, art and philosophy were one and the same.
*Visit my blog at: KwameOkoampaAhoofeJr
By Kwame Okoampa-Ahoofe, Jr., PhD
English Department, SUNY-Nassau
Garden City, New York
Sept. 30, 2021
E-mail: [email protected]