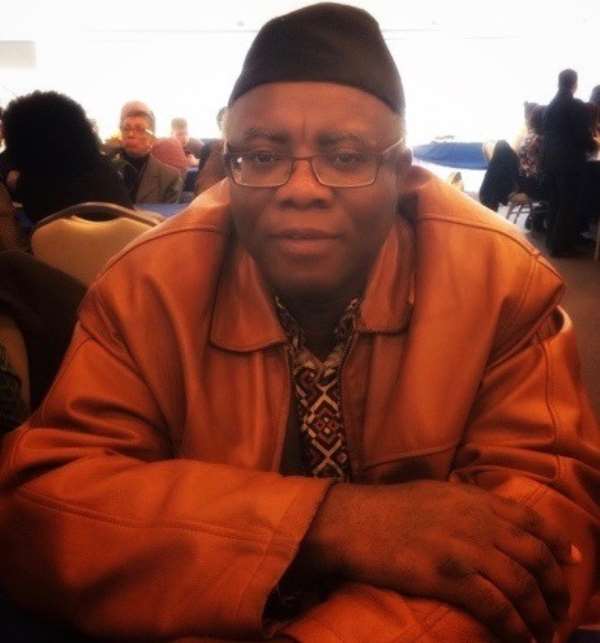 He is one of those massive political failures who, rather than candidly face up to their own moral character foibles and gross political incompetence, much prefer to take out their anger on the now two-term President Addo Dankwa Akufo-Addo. When he was given the chance to help solve the perennial problem of Dumsor, that is, the woefully inadequate and erratic supply of electricity throughout the country, the man once popularly called "Tarzan" was widely alleged to have either embezzled or wastefully spent the fiscal resources of the Volta River Authority (VRA) on living a lavish lifestyle. He would eventually be fired as the VRA's Chief Executive Officer by President John Agyekum-Kufuor, the very same man who had appointed Mr. Kwadwo Mpiani, Dr. Charles Wereko-Brobby's uncle, as the rabidly Akufo-Addo-hating Presidential Chief-of-Staff. And, by the way, it was the vehement and relentless protestations of the unionized workers of the VRA that forced President Kufuor, who was left with absolutely no alternative, to demand the immediate resignation of Dr. Wereko-Brobby.
So, you know precisely where the Victor Owusu nephew is coming from, when Tarzan disdainfully accuses President Akufo-Addo of resorting to the flagrant use of crass methodological illegality to fight the genocidal activities of the illegal small-scale mining operatives, also known as Galamseyers, across the country (See "Galamsey Fight: We're in a Rule of Law, not 'Buga-Buga' Anarchy – Wereko-Brobby Kicks Against Burning of Excavators" Modernghana.com 5/20/21). Among the members of the Ghanaian media, epic political failures like Tarzan are often annoyingly described as "Founding Members" of the ruling New Patriotic Party (NPP). But they are almost invariably, each and every one of them, no founding members of the country's foremost political establishment at all. Indeed, it would be far more appropriate to say that these abject political failures and ideological scam artists simply showed up their pockmarked faces at the official launching of the New Patriotic Party and just plunked down some GHȻ 50 or GHȻ 100 as their membership dues.
They were never among the pioneer core group of strategists, architects and seminal financiers who laid out the foundational blueprint for the establishment of the Danquah-Busia-Dombo-inspired political party that presently and literally rules the proverbial roost. At any rate, self-styled British-trained civil or mechanical engineers without any tangible landmarks to justify their high-sounding academic and professional credentials, like the one who forms the subject of this rejoinder, have often publicly gone on record as claiming that they are left-leaning ideologues who have great and incurable aversion for the neoliberal policy agenda of the New Patriotic Party, but that they have been mischievously coopted into the latter party by their famous uncles and aunts. They also claim to have at best, been very uncomfortable with their association with the key and seminal players of the New Patriotic Party, such as Messrs. Atakora Gyimah, if memory serves yours truly accurately; Albert Adu-Boahen and, of course, Nana Addo Dankwa Akufo-Addo, among a dozen of others.
Now, on the question of the authorized Operation Halt burning up of Chinese-made Chanfang excavators that are being recklessly and bestially used to lay the entire existence and livelihood of Ghanaian humanity to waste, what we unmistakably have here is a grim choice between the patently unwise acceptance of collective and suicidal or self-inflicted genocide, on the one hand, and a visionary, wise and progressive acceptance of the indispensable and bounden obligation of the Akufo-Addo-led government of the New Patriotic Party to protect and preserve the sanctity of Ghanaian humanity for the foreseeable future, or in perpetuity, whichever of these two cases and choices appears to be the smartest choice to make. By the fluffiness of his argument, it well appears that Dr. Wereko-Brobby lives in a bubble and therefore pretty much out of touch with the reality of the existential emergency that is the destructive impact of Galamsey on the ecological integrity of the Sovereign Democratic Republic of Ghana at large.
You see, we are dealing with a people who clearly value cedis and pesewas, dollars and cents, over and above human lives. These are not people who are civilized or have any remarkable modicum of respect for the law. Which is also why he sounds like somebody afflicted with acute dementia, when Dr. Wereko-Brobby calls for the law to be resorted to in the way that would ordinarily be done with refined and civilized humanity. Tarzan cannot claim to appreciate the laws of Ghana far better than the man who once fiercely defended his human and civil rights during the tenure of the democratically elected Rawlings-led "Buga-Buga" government of the National Democratic Congress. I suppose back then, it had something to do with Dr. Wereko-Brobby's civil and fundamental human right to operate a radio station called Radio Eye or some such media communications establishment. So expectedly shallow is Tarzan's sense of gratitude and respect for his sometime prime benefactor and now the legitimately elected President of the Sovereign Democratic Republic of Ghana that Tarzan's credibility is clearly nonexistent.
It is also rather pathetic to learn that even a shameless corruption-promoting President Agyekum-Kufuor would dismiss an equally shamelessly corrupt Dr. Wereko-Brobby from a job for which he had professionally been trained. That the latter's own uncle, Mr. Kwadwo Mpiani, Mr. Kufuor's Executive Chief-of-Staff, had not stepped up to the proverbial plate, a la American baseball parlance, to promptly rescue a pathologically kleptocratic Tarzan, is all the more to be pitied. But, perhaps, what is even more significant to emphasize is the gauntlet which President Akufo-Addo has openly thrown to anybody desirous of challenging his decision to set the environmentally destructive Chanfang excavators ablaze to meet him in court. The irony here is that it is pathological cynics like Tarzan who have also been calling Nana Akufo-Addo to fix the very mess whose veritable creators, like Dr. Wereko-Brobby, are dead-set against the fixing of the same.
Oh, Jesus Christ of Nazareth, "What a country in which we live in it," Uncle Atukwei Okai, my profound apologies.
*Visit my blog at: KwameOkoampaAhoofeJr
By Kwame Okoampa-Ahoofe, Jr., PhD
English Department, SUNY-Nassau
Garden City, New York
June 5, 2021
E-mail: [email protected]