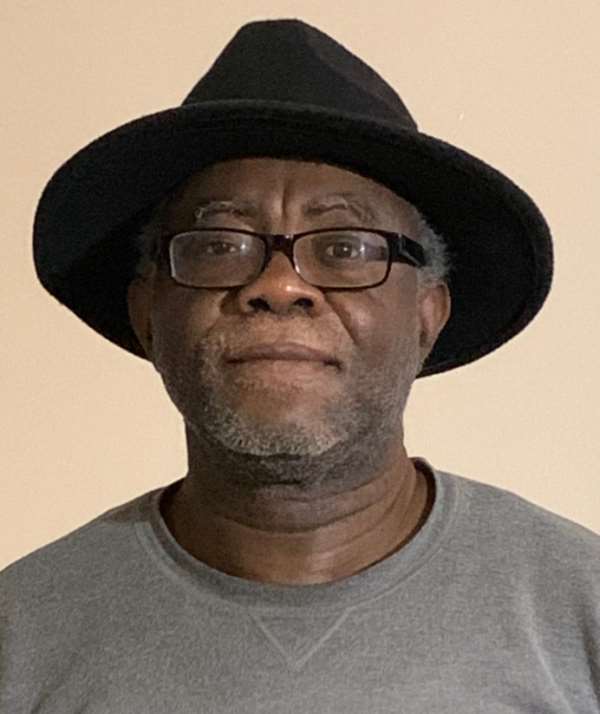 I watched all three good and wholesome-looking women in an hour-long Facebook interview hosted by Dady Kay Quaison, the Lawrenceville, Georgia, resident of the popular Internet Radio Station called Klasik Radio, a largely religious programming station that has been off the waves for quite a considerable while now, following the tragic and untimely passing of station boss, Joseph Kwadwo Yeboah, several months ago, of natural causes. Actually, Klasik Radio went off the waves well before Kwadwo Yeboah transitioned into eternity. He was a very good man and a friend of yours truly. He is sorely missed. The names of these three women – they are really ladies – who are all Past-Presidents of an organization called Ghanaian Women Association of Georgia (Gee-WAG) are Lady Pearl Aidoo, Agnes Hayfron Barnor and Adiza Harruna. They were hosted on a new talking-heads radio program called "Four-Stars" by the mercurial Dady Kay Quaison. And they were, all three of them, delectably fantastic.
Just this past May, the benevolent group once headed by Pearl, Agnes and Adiza hosted a fundraising event that collected quite a considerable bit for at least some two dozen projects that Gee-WAG has been engaged in for the past 13 years in Ghana, by the reckoning of Lady Pearl, a veritable gem of philanthropy. Mainly, the agenda of Gee-WAG – I hope I have the acronym of their organization down pat – has been to solicit and purchase sanitary and medical supplies to help alleviate some of the basic problems militating against the smooth-running of the public healthcare system back home in Ghana. On the latter count, I doff my hat to these Good Samaritans, because they are clearly, to a great extent, engaged in a Sisyphean venture of a sort that is almost akin to the proverbial fetching of water with a wicker basket, or a bucket with a big hole in the bottom the size of Utah's Grand Canyon.
The good news here, though, is that these Three Wise Women do not seem to be the least bit fazed or discouraged. And on the latter count, of course, the unmistakable reference is to the virtually abject and criminal neglect of Ghana's public health system by those heavily invested in by the Ghanaian taxpayer and specially trained to take care of the same. In particular, I have in mind an incident that was virally featured on social media just a couple of weeks ago at the Bibiani Government House, in the newly Akufo-Addo-created Western-North Region, in which emergency medical supplies donated by Ghana's Ministry of Health were literally and unconscionably allowed to go down the drain. We are told that these supplies included COVID-19 related protective gear, including face masks and hand sanitizers, surgical gloves and other assorted medications. These expensive items, we are further informed, had been left under an open shed on the compound of the public hospital that scandalously ensured that the aforesaid items would not be protected from the destructive vagaries of the elements.
You see, it is against the background of this treasonable act of criminal neglect that the heroic work of Missuses Pearl Aidoo, Hayfron Barnor and Adiza Harruna is to be envisaged and unreservedly commended and heartily lauded. And I must readily confess that I felt soundly asleep in the middle of the uncut WhatsApp clip of the aforesaid interview that had been dispatched to me by Dady Kay, the Four Stars program host and former host of the "Power House" weekly current affairs magazine program on Klasik Radio. I may very well have been dreaming about the interview during the two, or so, hours that I was literally knocked out by New York City's early summer heat wave. For, when I awoke, partly lying on my iPhone, which was on automatic pause and halfway through the interview, I almost reflexively clicked it back on and was riveted for the next half hour. I, however, kept wondering why the current or incumbent President of Gee-WAG had apparently not been invited as a panelist on the program. Maybe a new Gee-WAG President had yet to be nominated and/or elected to replace Ms. Harruna, the Immediate-Past President of Gee-WAG.
The latter group appeared to be deeply and actively engaged in too many good and great deeds to brook a vacuum at the very apex of its operations which, one may readily admit, is simply more than just impressive. In the 13 years since its founding, Gee-WAG has shipped across the Atlantic emergency supplies to at least 24 hospitals and health facilities dotted across the country. Just last month, for example, according to Lady Pearl Aidoo, Gee-WAG delivered some 2,500 packages of cooked meals to some of Georgia's most hungry and destitute. Watching these three well-spoken and admirably self-assured women, I could not help but think about that very popular Akan maxim which says that "Beauty does not pay; rather, it is character that matters more than all else." In this most resplendent instance, though, all three women could unmistakably be envisaged to be generously endowed with the TWO-B's, namely, Beauty and Brain.
*Visit my blog at: KwameOkoampaAhoofeJr
By Kwame Okoampa-Ahoofe, Jr., PhD
English Department, SUNY-Nassau
Garden City, New York
June 9, 2021
E-mail: [email protected]