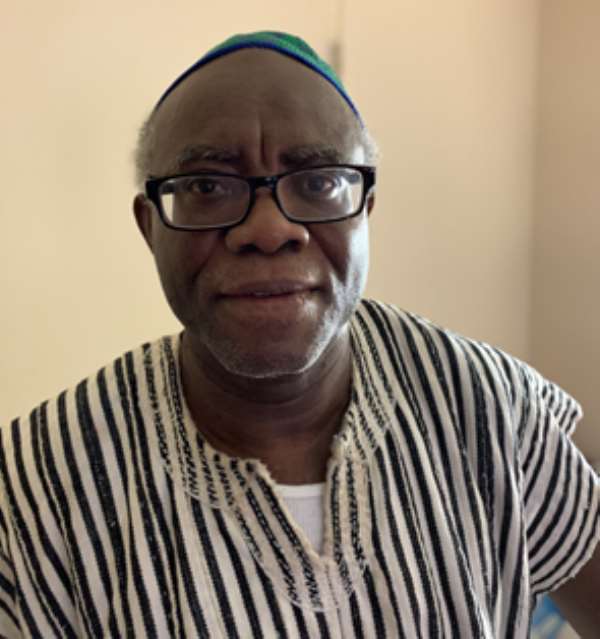 The fact of the matter which, by the way, Senior Citizen and Critic Sam Jonah deliberately either fails or flatly refuses to accept and/or acknowledge, is that whichever way one looks at issues pertaining to our Fourth Republican Governance System, President Addo Dankwa Akufo-Addo is unquestionably far and away the most progressive and competent of all our postcolonial Ghanaian rulers, with the possible exception of President Kwame Nkrumah, largely because Nkrumah was a pioneer and relatively an inexperienced politician when he assumed the official reins of governance on March 6, 1957. Recently, for example, a World War II veteran in his 90s, resident in Ghana's capital city of Accra, the same metropolis in which Mr. Jonah unleashed his rabidly anti-Akufo-Addo tirade or screed, was widely quoted by the media to have ranked "The Little Man from Kyebi" as the second-best postcolonial Ghanaian leader and statesman, closely after Dr. Kwame Nkrumah.
So, it surprises me not the least bit that even former President John Agyekum-Kufuor, who predictably hopped onto the Sam Jonah Verbal Attack Machine, in his trademark hypocritical and chameleonic guise of a desperately dispassionate statesman, should be having a field day, after being in strategic hibernation for quite a considerable while now, obviously a bit agitated over the inescapable fact of having been effectively rendered otiose and practically irrelevant in the present scheme of things on the national political landscape, even as the governance star and style of Nana Akufo-Addo continues to astronomically dwarf those of his four Fourth-Republican predecessors. Which directly latches onto the clearly undeniable fact that if, indeed, Ghanaians have virtually ceased speaking in the critical and testy manner in which they were known to do during the previous John Dramani Mahama regime or tenure, this is obviously because warts and all, Nana Akufo-Addo has performed and still continues to perform in very progressive and visionary ways that cannot be said of our former President, who merely and smugly presided over the effective collapse of Ghana's economy.
We must also underscore the forensically provable fact that the overwhelming majority of the molestations, assassinations, harassments of anticorruption agents occurred under the tenure and supervision of former President Mahama. We also know that many of the present wanton acts of deadly criminality raging in the country have been committed and are still being committed and/or perpetrated by some front-row leaders of the country's main opposition National Democratic Congress, including acts unconscionably and treasonously perpetrated by Mr. Samuel Ofosu-Ampofo, the National Chairman of the Mahama-chaperoned National Democratic Congress, who is presently in court fighting off charges ranging from kidnapping to other equally abominable and heinous and thuggish capital crimes against Ghanaian humanity. On the other hand, there is absolutely no forensically actionable or foolproof evidence pointing to any major or prominent New Patriotic Party leaders' having ever been involved or caught up in such wanton and heinous acts of capital criminality.
With the experience of high-powered criminal suspects like Mr. Ofosu-Ampofo, it ought to have become clear to Mr. Jonah why the Akufo-Addo Administration is having such an extremely difficult time clamping down on the high crime wave in the country. One should also not be the least bit flabbergasted, if the recent jail break of some 1,000 (One Thousand) Nigerian criminal convicts, feared to have been headed west towards Ghana's eastern border with Togo, had the fingerprints of the clinically nefarious likes of Mr. Ofosu-Ampofo and his ideological and party associates in the details. You see, the prime political game plan of the leaders of the National Democratic Congress is to destabilize the country if they cannot access Jubilee House or win legitimate and democratic power via the ballot box. Which means that Senior Citizen Jonah is unquestionably an impenitent hypocrite for propagandistically playing up the deaths of the 7, or so, National Democratic Congress-sponsored ballot snatchers and thugs who met their fatal and logical comeuppance in the Techiman-South Constituency during the 2020 General Election, even while self-righteously ignoring the very bloody and indescribably violent "revolutionary" history of his own political party.
Now, what we need to ask this self-proclaimed Senior Citizen is the fact of whether the December 2020 General Election marked the very first time that Ghana had witnessed any election-related loss of lives in the country. As well, rather than commend President Akufo-Addo for so efficiently and competently holding down the number of COVID-related deaths in the country, Mr. Jonah seems to prefer to highlight the fact that 1,115 (One-Thousand, One-Hundred-and-Fifteen) Ghanaians lost their lives or were seriously hurt or injured in road accidents in 2020, compared to the relatively and significantly low number of 700 COVID-related deaths in the country during the same period. Does the Senior NDC stalwart realize that had former President John Dramani Mahama won the 2016 Presidential Election, Ghanaians could very well be talking about at least 70,000 COVID-related deaths in the country?
The latter rough estimate or approximation is squarely based on the grossly incompetent manner in which the then-President Mahama handled the 2014 highly localized cholera epidemic which marginally convulsed the country. But, obviously, a passionately partisan-blind Mr. Jonah predictably fails or flatly refuses to realize and accept this grim and stark existential reality, precisely because it is not his party that happens to be wielding the democratic reins of governance. By the way, how many election-related violence have been investigated by NDC-sponsored Presidents in this country? This clearly and obviously ranks among the least bit of the worries of Mr. Jonah because, for the most part, it was not his horse that had been gored. Mr. Jonah can also not expect to eat his cake and have it as well. He cannot in one breath bitterly complain about excessive and unacceptable foreign domination of our country's business and industrial sector, especially the mining, energy and banking sectors, and at the same time bitterly lament the massively failed corruption-wracked attempts by politicians in Malaysia and South Africa to indigenize or ensure the salutary dominance of local entrepreneurs in these very same economically critical sectors of our country.
This at once morbid and scandalous strategic indecisiveness on the part of prominent and influential Ghanaian business leaders like Mr. Jonah is the bane of our snail-paced development in this most crucial sector of our economy. On the whole, "Sir" Sam Jonah blew more hot air than made any substantial or substantive ideational contribution to our national development agenda. Perhaps because he was far more fixated on heavily tarnishing the globally enviable image and reputation of Nana Addo Dankwa Akufo-Addo than objectively and constructively pointing the way towards a more sanguine and prosperous future for the country.
*Visit my blog at: KwameOkoampaAhoofeJr
By Kwame Okoampa-Ahoofe, Jr., PhD
English Department, SUNY-Nassau
Garden City, New York
April 29, 2021
E-mail: [email protected]