What Is Your Beef Here, Homeboy?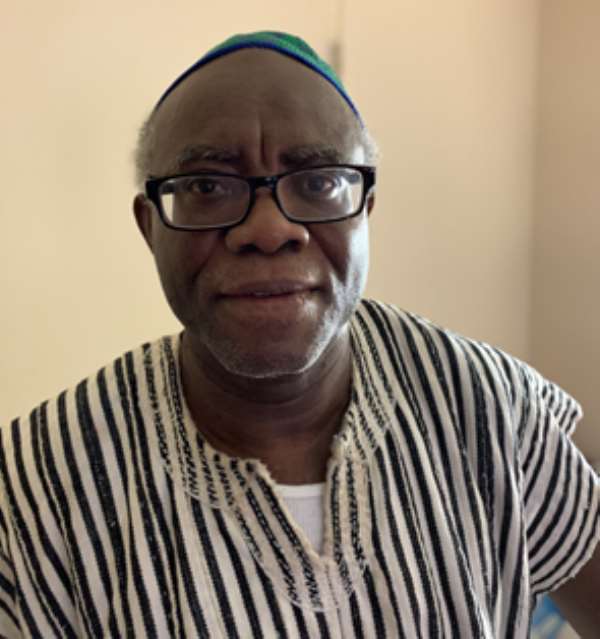 I don't know why no-love-lost hometown boy Gabriel Asare Otchere-Darko seems to be so uptight as to irascibly suppose that he, somehow, has a right to determine the validity or "Kosherness" of the pretexts or reasons because of which an epically and, some would say, apocalyptically trounced Candidate John "Akonfem-Kanazoe" Dramani Mahama has decided to seek redress or some form of reliefs, copycat style, from the august Supreme Court of Ghana (SCOG) – (See "Gabby Writes: Dear John Mahama" Daily Guide / Modernghana.com 12/31/20). Back in both of my hometowns of Kyebi and Akyem-Asiakwa, we call such "self-coat-tightening" attitude pure and sheer arrogance. Of course, anybody with a deep-thinking cap, including many of his own supporters and sympathizers, are deeply aware of the insufferable absurdity of the 2020 Mahama-led Presidential-Election Petition.
But, of course, there is also absolutely no argument about the fact that the sore loser is inalienably entitled to his own "doubts," even after clearly indicating in his petition that he has been clearly, indubitably and definitively defeated by the incumbent President Addo Dankwa Akufo-Addo. Well, the loser's argument, which is quite understandable, is that although he fell well short of the victory mark or tape, nevertheless, the acclaimed victor also fell a tad short of the finishing tape, although the Jean Adukwei Mensa-chaired Independent Electoral Commission (IEC) had decided that Nana Akufo-Addo, in spite of uncollated results of the Techiman-South Constituency, had already crossed the victory tape and did not need the results of the last remaining constituency to indisputably clinch victory.
The Chief Returning Officer (CRO) even went on to do the math, as New Yorkers are wont to say, to home in her point or the sound logical rationale for calling the clear winner of the race. Now, and I have already discussed this in a previous column, Candidate Mahama has disingenuously and solipsistically and sophistically decided that the purely hypothetical analogy of the Techiman-South case scenario is the Real McCoy, as Americans are wont to say. He has chimerically and sophistically and sophomorically decided, Kwaku Ananse fashion, that, indeed, he won 100-percent of the uncounted and uncollated Techiman-South Constituency votes. That was precisely how in his clinically jaundiced and fever-blighted imagination, Kwame Gonja was able to arrive at a mathematical result which had the incumbent President Akufo-Addo, who had mercilessly trounced him like his own son, at 49-percent of the votes and Little Dramani at 46-percent of the same.
The fact that the Justice William Atuguba-presided Supreme Court panel of jurists that adjudicated the 2012 Presidential-Election Petition had not removed any iota of doubt from the minds of those who firmly believed that, indeed, Candidate Akufo-Addo had convincingly won the 2012 Presidential Election, including Mr. Johnson Asiedu-Nketia, the dynastic General-Secretary of the Mahama-led National Democratic Congress, does not absolutely in any way imply that a defeated Candidate Mahama, a dozen years down the pike, as it were, is also obligated to feel that his 2020 Presidential Election Petition is equally highly unlikely to remove any doubts in his mind, in the highly likely event of Little Dramani's having his suit summarily dismissed by the Justice Kwasi Anin-Yeboah-presided SCOG or Apex Court.
By the way, I also egregiously omitted to add the evidently significant fact that in the wake of the 2012 Presidential Election's being scandalously called in favor of the extant incumbent and Interim-President John "Embraer Scam" Dramani Mahama by an electorally collusive Dr. Kwadwo Afari-Gyan, the Electoral Commissioner or Chief Returning Officer at the time, Mr. Asiedu-Nketia sheepishly but categorically told a radio interviewer that, in reality, it was Candidate Addo Dankwa Akufo-Addo who had handily won the 2012 Presidential Election, but that the results of that momentous election had been called in favor of the interim presidential incumbent because the polling representatives, agents and assigns of Candidate Akufo-Addo had not been vigilant enough on behalf of their political and electoral principal.
It is equally significant for Mr. Otchere-Darko to fully appreciate the fact that the legal temperament of a non-legally trained Gonja-Mafia Capo like Mr. Mahama is significantly different from that of the more erudite and expert temperament of Akyem-Mafia Capos and Squadron Leaders like Nana Addo Dankwa Akufo-Addo and, to be certain, that of bona fide Akyemkwaas like Messrs. Bediatuo Asante and Otchere-Darko, for only two of the most-ready examples. Which much deeper understanding and appreciation for Ghana's legal protocol and culture, as well, significantly determined that although the verdict handed down by the Atuguba-presided SCOG did not in any way remove any doubts from the minds of the lead plaintiffs and co-plaintiffs, nevertheless, ensured that primarily for the sake of the tranquility and integrity of the Sovereign Democratic Republic of Ghana, a "technically" or judicially defeated Candidate Akufo-Addo would calmly accept the same.
Now, it goes without saying that Little Dramani does not have the same political and legal or judicial pedigree as President Akufo-Addo and is this not obligated or expected to react to judicial proceedings in much the same way or manner. This is clearly where a cognitively dissonant Mr. Otchere-Darko may be coming from.
*Visit my blog at: KwameOkoampaAhoofeJr
By Kwame Okoampa-Ahoofe, Jr., PhD
English Department, SUNY-Nassau
Garden City, New York
January 1, 2021
E-mail: [email protected]