You Lie Bad, Kobby Mensah!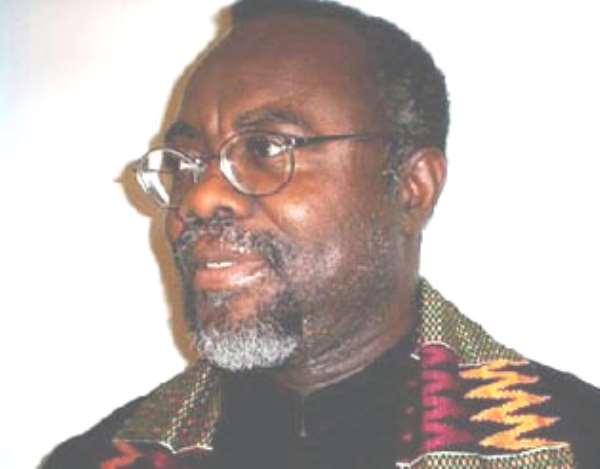 He is not around to answer for himself, as he would have been lightening-swift to do; but, fortunately, he left more than ample evidence that points to the fact that the last Presidential Candidate that the late Chairman Jerry John Rawlings wanted to accede or succeed to the Presidency for even the first time around, let alone the second nonconsecutive time around, was Mr. John Dramani Mahama who, to the drawing of his last breath on Earth, the Founding-Father of Ghana's main opposition party, the National Democratic Congress (NDC), publicly and with regular rapidity described as the most thoroughgoing corrupt leader in the postcolonial era to have ever acceded to the Presidency. Mr. Rawlings also regretfully noted that the pathological and narcissistic corruption of Mr. Mahama, whom the recently resigned Independent Special Prosecutor, to wit, Mr. Martin ABK Amidu, publicly and officially identified as "Government Official number One," in the globally infamous European Airbus SE Payola Scandal, made the summary execution of Generals Ignatius Kutu Acheampong and Frederick William Kwasi Akuffo, among a half-dozen others, seem like murder most egregious, inexcusable, unforgivable and, definitely, undeserved.
So, it comes as rather comical for Mr. Kobby Mensah, the failed National Democratic Congress' Parliamentary Candidate for the Ningo-Prampram Constituency, in the Greater-Accra Region, to claim that Chairman Rawlings had avidly wanted or desired to have campaigned for Candidate Mahama but had been restrained from doing so by his wife and now-widow, Mrs. Nana Konadu Agyeman-Rawlings (See "Nana Konadu Stopped Rawlings from Campaigning for Mahama – Former NDC Aspirant Alleges" Peace FM / Ghanaweb.com 11/19/20). Indeed, even prior to his, in retrospect, grossly misguided selection as the Presidential Running-Mate by the late President John Evans Atta-Mills in 2007, or in the leadup to the 2008 Presidential Election, the Rawlingses vigorously campaigned against the "wrongful selection" of Mr. John Mahama as the Atta-Mills' Running-Mate because as Nana Konadu Agyeman-Rawlings told the media and the general Ghanaian public at the time, the former Shit-Bombing Rawlings' Communications Minister could simply not be trusted. I would not be the least bit surprised, if Mrs. Rawlings decides to sue Mr. Mensah after funerary rituals and festivities have been performed for her husband.
To be certain, the murky events and circumstances surrounding the death of the man who brazenly and foolhardily defied the prophetic counsel of the Rawlingses have vindicated the misgivings of the Rawlingses that, indeed, Candidate Mahama cannot be trusted. Even more significant must be underscored the fact that after 8 years at the helm of the affairs of the Sovereign Democratic Republic of Ghana, 3½ of these as Vice-President and Atta-Mills' understudy, Mr. Mahama has proven himself to be grossly incompetent and woefully underqualified for the most powerful and the highest paid elective office of the land. Which unarguably explains why Candidate Mahama would be campaigning, rather insolently, on the decidedly empty platform of being allowed back to Jubilee House in order to "correct my past mistakes at the Presidency." Compare the preceding with the unprecedented achievements of Mr. Mahama's successor, namely, President Addo Dankwa Akufo-Addo, and Little Dramani's main political agenda could not be more insulting to the intelligence of Ghanaian citizens and voters.
Among the visionary and masterful achievements of Nana Addo Dankwa Akufo-Addo, of course, is the career and destiny game-changing policy of a Fee-Free Senior High School System, an unprecedented human-resource development initiative that has taken approximately a half-million Ghanaian youths off our city streets and alleyways and crime-prone communities on the road to a future filled with seismic socioeconomic uplift and a qualitative life of industrial, technological, intellectual and cultural productivity. Similar sterling and progressive achievements can be seen in the equally vital areas of health, agriculture and gainful employment.
On the other hand, Candidate Mahama, who not very long ago effectively suspended his electioneering campaign, is pathetically and pathologically fixated on how he hopes to improve on the development achievements of his successor, such as the Fee-Free Senior High School Policy Initiative which, by the way, Candidate Mahama initially pooh-poohed as an implementational nightmare and one that had been tried and woefully failed in dozens of African countries, and the Kufuor-minted but Akufo-Addo resuscitated National Health Insurance Scheme (NHIS). For Mr. Impossible, it is all a matter of having President Akufo-Addo successfully implement game-changing national development projects and programs, and then peevishly jumping onto electioneering campaign platforms and obscenely and mendaciously claiming unprovable credit for the same. Thus, in the wake of the successful implementation of the Fee-Free Senior High School Policy Initiative, Candidate Mahama has been lying about having implemented something called "A Gradually Fee-Free Senior High School Policy Initiative."
But, of course, the comical aspect of this burlesque is that Little Dramani cannot tell Ghanaians how much money was spent on or invested in this "Flying Guinea Fowl Project" of a Gradually Free-Fee Senior High School Policy Initiative and the youths of which parts of Ghana benefited from the same. This is the psychologically unhinged morally reprobate character that Mr. Kobby Mensah would have Ghanaian citizens and voters believe a crusading anti-corruption and anti-double-salary creaming Chairman Rawlings eagerly wanted to please by vigorously campaigning for, but for the negative influence of that "Gonja Witch" of a woman called Mrs. Nana Konadu Agyeman-Rawlings. Come on, folks, let's get serious here!
*Visit my blog at: KwameOkoampaAhoofeJr
By Kwame Okoampa-Ahoofe, Jr., PhD
English Department, SUNY-Nassau
Garden City, New York
November 18, 2020
E-mail: [email protected]