Where Is God In The COVID-19 Crisis?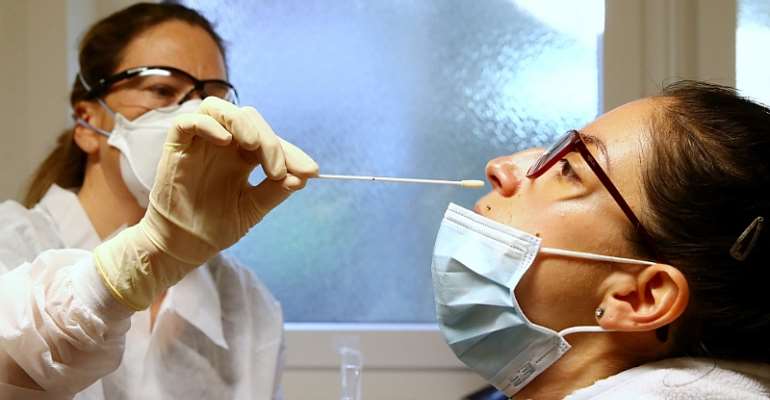 "Peace I leave with you; my peace I give you. I do not give to you as the world gives. Do not let your hearts be troubled and do not be afraid.", "I have told you these things, so that in me you may have peace. In this world you will have trouble. But take heart! I have overcome the world." (John 14: 27, 16: 33).
We live in very difficult, painful and challenging times. Some of these painful realities are personal, societal and global. There have been tough times, there will be tough times and there are tough times which the world will have to endure. The COVID-19 pandemic has hit the globe so hard.
According to statistics by the World Health Organization (at the end of October 2020), since the start of the pandemic from 31st December, 2019, a total of 45,140,131 million cases has been recorded with 1,182,747 million deaths. There are 219 countries, areas and territories which have been affected.
The existence of this and other challenging times causes people to doubt the existence and their faith in a loving God. They asked "if God is loving and all-powerful, how can he allow so much pain and watch all these people die." People ask this and many more. Some even conclude either that there is no God or even if there is a God, he not all-powerful and loving. From all these questions and conclusions some make the assumption that if they were God, they would have done it differently.
Most people can handle a great deal of pain when they know or can see a reason for it. For instance, athletes will stretch themselves, subject themselves to pain because they find a reason to. However, in cases where after some efforts and pain, the situation still looks hopeless and the pain seems meaningless, it is hard to accept.
In the opening verse, Jesus clearly stated that there will be troubles and very trying periods and events in this world. As long as the world remains, man is not free from hard times. However, He tells us to take heart and not be afraid because He has overcome the world. The victory and hope of the Christian should be these promises.
"For everyone born of God overcomes the world. This is the victory that overcomes the world, even our faith" (1 Jn. 5: 4).
In Ephesians 1, Paul prayed for the believers that the eyes of their heart may be enlightened to know the incomparably great power of God or the incredible greatness of God's power. This answers the doubt and questions people asked about the power of God.
The existence of God does not guarantee a trouble free world…"in this world you will have troubles." But the Lord has assured us of his presence even in the difficult times.
"When you pass through the waters, I will be with you; and when you pass through the rivers, they will not sweep over you. When you walk through the fire, you will not be burned; the flames will not set you ablaze" (Isa. 43: 2). Take notice of the word, "when". "When" is used to imply that something definitely will happen even if the precise timing is unknown. This tells us that hard times like this pandemic is part of the world. We cannot escape these things as long as we are in the world and there uncertainties about their times. They may occur when we least expect them.
The fact that God is with us does not mean we will not feel the coldness of the river or the heat of the fire. He will never leave us nor forsake us (Deut. 31: 8).
There are other Biblical principles and promises we can apply to this COVID-19 situation.
Bible reminds us in 2 Corinthians 1: 4, God comforts us in our troubles not from our troubles. Suffering and troubles are God's methods of shaping our lives and character. "And endurance develops strength of character, and character strengthens our confident hope of salvation" (Rom. 5: 4). Barely, do we learn the profound lessons of life when everything is going on smoothly. Real learning comes when everything goes wrong. Again, Romans 8: 20, reminds us that all things work together for good for them that love the Lord and are called according to his purpose.
Therefore, we must encouraged ourselves in the Lord as David did in 1 Samuel 30: 6 and be strengthened with all power according to God's glorious might (Col. 1: 11). We are weak of ourselves, with Jesus we can do nothing (Jn. 15: 5). In Christ we have receive grace upon grace (Jn 1: 16). This grace is sufficient to help us go through life's tough times.
In and with God there is always hope. We serve the "God of hope" (Rom. 15: 13). In times such as this let us not grieve and sorrow as the rest of men who are without hope (1 Thess. 4: 13). "Blessed is he whose help is the God of Jacob, whose hope is in the Lord his God." (Ps. 146: 5). The hope we have in God is the anchor for the soul, firm and secure. (Heb. 6: 19). Romans 4: 18 -21 tells us Abraham continued to hope even when there was no reason to and his faith grew stronger in the Lord because he was persuaded that God had the power to do what he had promise.
Let us put our hope in the word of God, "…but I have put my hope in your word" (Ps. 119: 81) and know that God is with us through these times just as he has promised he would.
Our hope in God is not wishful thinking, it is an assured expectation because this hope does not disappoint (Rom. 5: 5).
Finally, whether is a form of biological weapon or a laboratory experiment or the doing of God, the Christian should be firm in his or her hope and never forget the Lord's promises of His presence through all the changing scenes of life. The Christian should be strong in the Lord and in his mighty power (Eph. 6: 10). The Christian should live in the strength and in the power of God. "For in him we live, move and have our being" (Acts 17: 28). The very existence of the Christian is in God. God is in this situation with us.
"May the God of hope fill you with all joy and peace as you trust in him, so that you may overflow with hope by the power of the Holy Spirit" (Rom 15: 13) and "the peace of God which transcends all understanding will guard your hearts in your minds in Christ Jesus." (Phi. 4: 7).
Indeed, in this world we will have tribulation but in Christ, we will have peace. Therefore, let us not lose heart and faith in his promises.
This too shall pass.