GUTA Must Be Empowered to Compete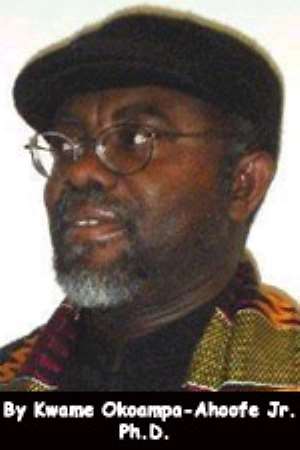 I suppose what the Ghanaweb.com reporter/writer who wrote the article captioned "GUTA Warns Govt on Ghana-Nigeria Friendship Act Proposal" 9/6/20) meant was Ghana Union of Traders' Associations, with the plural form of the word "Association." Without the "S," the name of the umbrella traders' organization sounds rather illiterate and dumb. At any rate, I just wanted to add my 20-pesewa support to the cautionary advice given by Dr. Joseph Obeng, the President of the Ghana Union of Traders' Associations (GUTA), for the government to tread cautiously vis-à-vis the proposed Ghana-Nigeria Friendship Act, which clearly appears to be geared towards facilitating the liberal penetration and possible usurpation of Ghana's market by actors from the much bigger Nigerian market.
Let me first point out here that there is absolutely nothing wrong with Ghanaian and Nigerian traders mutually and healthily and progressively expanding their respective commercial spheres of influence into one another's territory. Still, the Ghanaian leaders, both the leaders of the commercial traders' unions and associations and our politicians, also need to take into serious consideration the recent hint mischievously, albeit inadvertently, dropped by Mr. Dele Momodu, the Nigerian businessman with commercial interests or enterprises in Ghana, who boastfully but categorically noted that Ghana's trade policymakers had invidiously raised the investment bar or threshold for Nigerian traders because their local Ghanaian counterparts woefully lacked the genius and capacity to compete with the Nigerians even on their own turf.
Now, we know for a fact that it is not necessarily the case that the Ghanaian trader, somehow, lacks the requisite commercial skills and genius to effectively compete with their Nigerian counterparts. Rather, as I clearly see it, the problem is one of the disparate national characters of traders of the two countries. You see, generally, the Nigerians tend to be more aggressive and morally and legally more acquisitive, "competitive," adventurous and reckless than their Ghanaian counterparts, who generally tend to be relatively more civically responsible, subdued and law-abiding than their more literally cutthroat Nigerian counterparts.
Which is why it behooves the Ghana government to tread very carefully by not letting the Nigerians unhealthily and immorally cannibalize the Ghanaian national commercial temperament and unique character. Put in more simple English, the Nigerians have absolutely no right to dictate to Ghanaians what the minimum amount of commercial investment capital must be required of foreign nationals who voluntarily opt to establish business enterprises in Ghana, any more than Ghanaians have a right to dictate the same terms to their Nigerian counterparts.
Indeed, even as Dr. Obeng aptly suggested, recently, any perceived kinks in trade or commercial relations between Ghana and Nigeria must be taken to the African Continental Free Trade Area Organization for deliberation and resolution. It ought not to be that the private but volatile fracas between the two generally friendly and brotherly nations would be deliberated upon and resolved under the radar, when a continental institution has been expressly established for the purpose. Even more insidious and one that the self-serving and mischievous likes of Mr. Momodu would not publicly let on is the verifiable fact that sharp-toothed greedy charlatans like this Nigerian businessman have in the recent past viciously colluded with the treacherously anti-Ghanaian leaders of the National Democratic Congress to deviously and systematically destroy the hitherto robust Ghanaian business enterprise which, by the way, was seriously undermined, if not irreparably destroyed by the so-called Rawlings' Revolution.
You see, it has not been a simple matter of the average Ghanaian entrepreneur's not being able to effectively compete against his/her Nigerian counterpart. Rather, it is that far more than a decade of the so-called Rawlings' Revolution systematically targeted mainstream Ghanaian entrepreneurs, largely of Akan and non-Ewe ethnicity, for sustained decimation or total destruction. No such wanton abuse of private entrepreneurs ever occurred in Nigeria, at least not in recent memory. I also rabidly resent the fact that rather than apply diplomatic common sense as the first order of business, the Nigerians had first resorted to bully tactics. It was only when they realized that under the widely alert and visionary tenure of President Addo Dankwa Akufo-Addo, this crude and barbaric tactic would not work because, unlike the hopelessly corrupt and know-nothing leaders of the National Democratic Congress, in particular former President John "Airbus-Kanazoe" Mahama, Nana Akufo-Addo was no pushover, that the Abuja Bully Boys decided to go at it "diplomatically" by applying common sense and logic to attempt to resolve this problem.
Nonetheless, even as the GUTA President, Dr. Obeng, has rightly suggested, any dastardly attempt to revise the minimum fiscal threshold for foreign investors in Ghana must be squarely predicated on the terms of the Ghanaian people, and not to the convenience of the Nigerians. We have an inalienable right to protect the integrity of Ghana's market, just as much as the Nigerians have an inalienable right to protect their own. International Friendship? By all means! But a Ghana-Nigerian Friendship Act? That is unacceptably and insidiously "Un-ECOWAS-Like." It must be rejected in toto! There must be "Equal Friendship" with all.
*Visit my blog at: KwameOkoampaAhoofeJr
By Kwame Okoampa-Ahoofe, Jr., PhD
English Department, SUNY-Nassau
Garden City, New York
September 13, 2020
E-mail: [email protected]