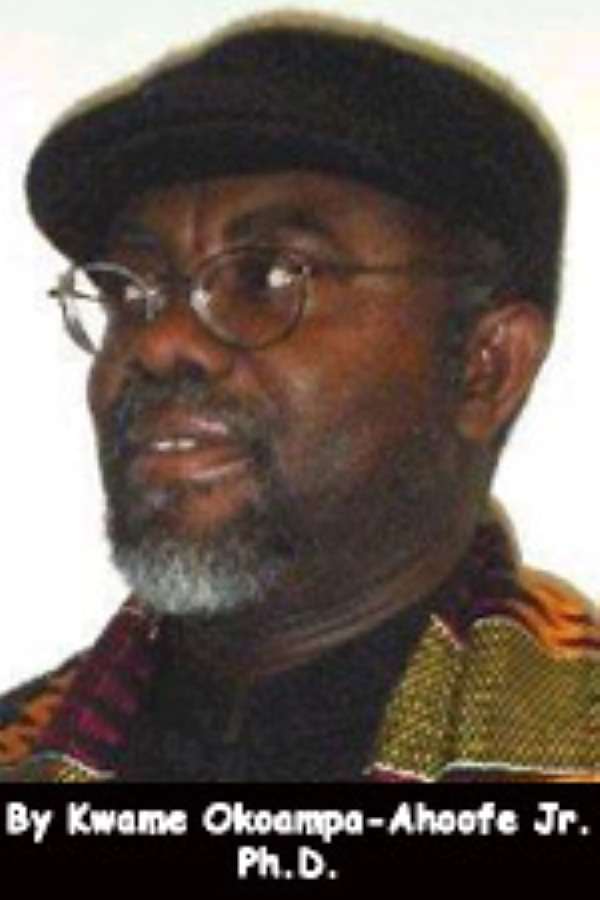 The serious need to taking care of the weak and vulnerable in our society was brought home to Ghanaians, both at home and abroad, recently when Health Minister Courage Quashigah paid a working visit to the Weija Leprosarium in the Greater-Accra Region (Ghana News Agency 8/25/06).
But what was even more intriguing, in a quite disturbing manner, however, was the failure of the anonymous GNA correspondent, or reporter, to also enlighten readers about the current population of the leprous community in Ghana; for, indeed, there is such phenomenon as a Community of Lepers in our society, being that people infected with leprosy are virtually doomed to perpetually residing on the forgotten margins of society.

Unlike HIV/AIDS, which may be aptly deemed to be the modern-day equivalent of leprosy, the latter curable disease is an ancient one which even gets a mention in the New Testament of the Christian Bible. But that in our time the fact that leprosy has become amenable to medical treatment has not in the least meliorated the stigma associated with its contraction, as one would ordinarily expect, to the quite callous and damnable extent that even lepers who have been reportedly cured of the disease have been known to have been flatly refused re-admittance into the very families in which they were born and raised, let alone re-admittance into the larger Ghanaian society, is very regrettable.

The more serious, or larger problem, however, appears to reside in the fact that even many of those who have been professionally trained among us do not, curiously somehow, seem to fully appreciate the curable nature of the disease. Consequently, it becomes almost a given that lay, or non-medically trained, Ghanaians would continue treating individuals cured of the disease as if their new condition was absolutely of no moment. For instance, Reverend Father Andrew Campbell, head of the Lepers' Aid Committee, painfully reports that "some medical officers were not even ready to attend to them [i.e. cured lepers] thinking that they [the medical officers themselves, that is] could be infected" (Accra Daily Mail 8/25/06).

Indeed, if the preceding has any iota of validity or verity, and we have no reason, whatsoever, to doubt Father Campbell on this score, then the logical question to ask is: Just where did our society go wrong in expending huge sums of money in the training of medical officers – or doctors – who are, in spite of their arduous and lengthy specialized training, are virtually as nauseatingly ignorant as the proverbial next person?

Indeed, one begins to get a little bit of an answer from the foregoing question, when Ms. Irene Agyepong Amarteifio, the Greater-Accra Regional Director of the Ghana Health Service, is glibly reported to be urging the public "to seek early medical attention when they noticed any signs of discolored skin and insensitivity in the affected part."

To be certain, either the preceding reportage is a prime example of palpably incompetent journalism, which is nothing out of the ordinary to remark about contemporary Ghanaian journalism, or there is a raging crisis of health under-education. And there are, of course, a multiplicity of implications here, particularly when we also have doctors who, reportedly, do not appear to understand the very basic fact of leprosy being curable. Then also, to facilely conclude, as Mrs. Amarteifio appears to reportedly do, that the mere observance of "any signs of discolored skin and insensitivity in the affected part," perforce, indicates the infection of leprosy is rather pathetic.

To be certain, what ought to be highlighted are some of the environmental and behavioral factors, should there be any, that are known to trigger the onset of leprosy, after which the symptoms cited above may then be meaningfully read as partly symptomatic of a contraction of the disease.

But that the GNA correspondent – or reporter – ought to have provided his/her readers with the numbers and locations of Leprosaria – or communities of lepers – around the country cannot be overemphasized. For such added dimension would have meaningfully educated readers about the magnitude of leprosy in the country, thereby enabling public officials and politicians to focus on solving this problem. This, in sum, is the primary role of journalists – meticulous troubleshooting and prompt information dissemination in expectation of constructive official response. Which is why yours truly was quite amused recently to read about the imminent establishment of a post-graduate media academy, in Ghana, aimed at training business reporters for media organizations in the West African sub-region.

This, indeed, is what yours truly would call a White Elephant, were you to ask him. And just why is that? Simply because the best way to train business reporters in any of our existing institutions of higher learning, particularly the University of Ghana or the Ghana Institute of Journalism, is to create a curriculum for journalism students interested in majoring – or specializing – in business reporting. You don't really need any special graduate business school to train reporters.

But, perhaps, even on a more serious note is the fact that effective business reporting has been sorely lacking in the West African sub-region for purely Euro-colonial reasons. Until just yesterday, even the basic concept of a stock exchange to many an average West African reporter was about as practical as attempting an orbital tour of "The Dwarf Planet" – Pluto, that is – in a mummy wagon. By the same token, you couldn't even intelligently hold forth about capitalist economic theories, since cognitively bankrupt regimes like the Ghana Butchers' Congress had, through their protracted and simian flirtation with pseudo-Socialism, effectively ensured that the basic dynamics of capitalist economics, the indisputable engine of modern civilization, remained a total abstraction.

Finally, Father Campbell, the head of the Lepers' Aid Committee, is dead-on accurate in calling for the establishment of centers for the aged around the country in order to "entertain [our elderly] and make them financially independent." And here, it ought to be stressed that as Ghanaian society becomes increasingly capitalist-oriented, the superannuated – or retired and aged – are bound to be increasingly marginalized, particularly those in the rural communities who lack the sort of resourceful prior arrangements, such as social security and retirement benefits, to cater to their basic needs in their twilight years.

As a traditional culture and society, however, we know fully well that the elderly and superannuated are not totally irrelevant, their virtual physical inactivity notwithstanding. And especially for those who have lived or led productive lives, their experiences in such forms as refreshing sources of oral and contemporary history could be readily and inexpensively tapped. For ours is largely an oral culture, with a sizeable corpus of cultural and historical information – or material – yet to be drawn out of the elderly and meticulously documented and codified for the collective enhancement of knowledge about Ghanaian society, particularly pertaining to the latter colonial and early postcolonial periods. The rural elderly, who are generally more intimately familiar with our folklore, could also be productively employed in the revolutionary development of traditional Ghanaian literature. Likewise, those among the elderly who are healthy enough could be engaged as entertainers and moral templates in the intellectual and cultural development of our schoolchildren.

Indeed, ours is the Golden Era of modern Ghanaian history and the choices that we collectively make today would, almost certainly, determine the fortunes of at least the next two generations after we have passed off the scene and into the deep recesses of history.
*Kwame Okoampa-Ahoofe, Jr., Ph.D., teaches English and Journalism at Nassau Community College of the State University of New York, Garden City. He is the author of "Nana Kwame, Too, Can Read!"(iUniverse.com, 2006), a forthcoming anthology of children's poetry.