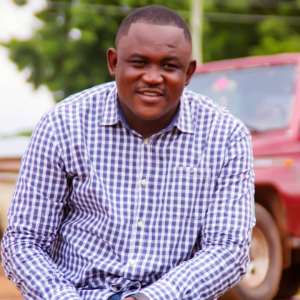 Christopher Mensah Amoako
TV3's Savannah Regional correspondent Christopher Mensah Amoako has opened up on how he became the only journalist in the country to have first reported on the gruesome Kafaba killing, indicating the reportage has soared his popularity in the region.
Speaking on 'Talk To Solomon' (a YouTube based talk show) hosted by journalist and writer Solomon Mensah, Mr. Amoako said: "On that fateful Thursday, July 23, 2020, I was on my way to East Gonja [in the Savannah Region] when I had a video sent to me via WhatsApp. When I downloaded it, I heard them speak both Gonja and Twi so I realised the tape could not be an imported one from any other African country."
Christopher Amoako said, he did further checks to ascertain the authenticity of the video and after rigorous background checks confirmed it was not fake.
"I quickly called the one who sent me the video not to share with anyone. Then, after about two hours, I also had a call from the son of the deceased telling me about the incident," he noted.
The Savannah Regional correspondent for the Media General group revealed that he first "harboured fear in breaking the news. But now, that fear has long gone. Today, everywhere I pass, I get people pointing fingers at me that, 'that's the journalist who first broke the news to the nation'".
Christopher Amoako said he together with the people of the Savannah Region and the nation as a whole look forward to a swift justice served by the law courts on the murder.
A 90-year old woman Akua Denteh was lynched on July 23 by a section of the Kafaba community after a soothsayer pronounced her a witch.
The Savannah Regional Police Command has since apprehended some suspects including 32-year old Latifa Bumaye believed to have played a key role in the lynching.
Find below Christopher's full interview: