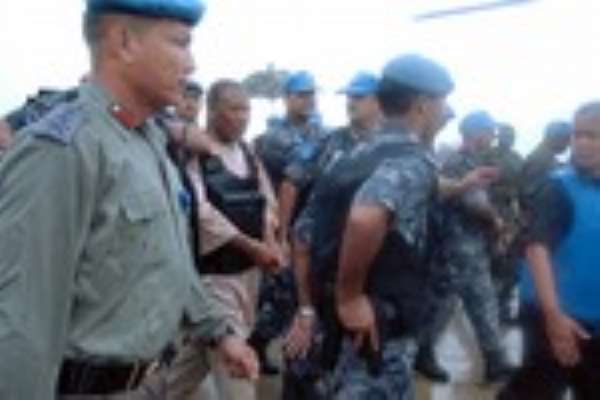 LONDON, June 15 — Britain said on Thursday that the former Liberian president, Charles Taylor, might serve his sentence in a British prison if he is convicted at his forthcoming war crimes trial.
The announcement paves the way for Mr. Taylor, who is being held in Sierra Leone on charges related to his role in that country's bloody civil war, to face trial in The Hague. The Netherlands has agreed to be host to the trial, but only on the condition that Mr. Taylor would not serve his sentence there if convicted. Other European countries have refused to allow Mr. Taylor to serve any sentence within their borders, but Britain, the former colonial power in Sierra Leone and a country that sent troops there in 2000 to help end the war, said it had started the process, "and we want to finish it," in the words of Lord Triesman, the minister for Africa.
Margaret Beckett, the British foreign minister, said the decision to take in Mr. Taylor, who has been charged with 11 counts of war crimes, crimes against humanity and other violations, was evidence of Britain's "commitment to international justice."
"I am delighted to be able to respond positively to the request of the United Nations secretary general that, should he be convicted, Charles Taylor serve his sentence in the U.K.," Mrs. Beckett said.
Mr. Taylor stands accused of financing the rebel force in Sierra Leone, the Revolutionary United Front, by selling diamonds on its behalf and then supplying it with arms. In a decade-long war that left 50,000 people dead and countless others maimed and displaced, the rebels were notorious for raping civilians and for using machetes to kill people and to hack off limbs and other body parts.
The trial is to be held in the International Criminal Court complex in The Hague under the auspices of the United Nations-backed court established in Sierra Leone to try people suspected of atrocities in the war, which lasted from 1991 to 2002.
Mr. Taylor, who was arrested in March 2006, is to be tried in The Hague because of fears that trying him in West Africa, where he still has allies, would further destabilize a region trying to recover from its wounds.