September 5, 2008
|
General News
Harbour City Mass choir raises the gospel bar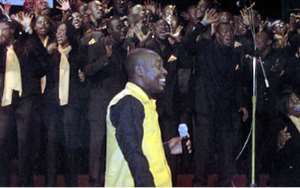 'So how come we never hear this soul inspiring and enormously creative music on radio by these musicians, or even have a fair knowledge that this challenging gospel genre is in operation in the country?'' Wendell, a friend, sitting by me in the National Theatre last Sunday asked loudly as we were treated to spectacular ministrations of the Harbour City Mass Choir (HCMC) and other contemporary likes of the evangelism-minded Impact Project and Kwesi Oteng.
The usual Ghanaian sigh of 'hmm….' seemingly summarized my answer to his question just so my voice isn't strained over the pulsating sounds that eclipsed the auditorium of the National Theatre and which of course was engineered by the impeccable Koded Studious. However, should we have been in a better environment where he could clearly hear me, I would have walked him into the history of the Ghanaian Contemporary Gospel Music before laying bear the right reasons in answering his question.
Even so, without disclosing the history, a logical conclusion of the fact that radio is so used to mainstream gospel that it seems so difficult for it to inject something new and very creative into the system though majority of mainstream gospel's works are mediocre.
\At least the so-called big gospel executive producers may either have the right answers since many have had to tell many of contemporary groups that they do not like their music or insinuate that the brand would not sell. Surprising huh…!
At this time, back in the auditorium of National Theatre, where the celebration launch of the Tema-based Harbour City Mass Choir' s debut album, 'Touching Our Youth', was taking place, the comperes for the day, Charys Senanu (of Sunny FM's Inspirational Morning Drive fame) and Bernard Avle (of CitiFM's Breakfast Show Host), were at their marketing best trying to offload the well packaged hampers which contained the debut album. The hampers also had the additions of some goodies and each represented a letter in the choir's name and title of the album.
The comperes publicized the hampers to patrons who had just been caught spellbound by the new sounds they heard from the celebrant choir and the old from some of the few mainstream artistes that are still defining what gospel music is and should be- Daughters of Glorious Jesus and No Tribe.
After a waiting moment or two, the first CD was purchased at five hundred (500) Ghana Cedis and others followed suit. Thereafter, Daughters of Glorious Jesus, relying on the repertoire of touching lyrics from their hit songs, took the house to another level. Perhaps, they were inspired by the solemn worship and vibrant praise sessions of No Tribe.
With time being a limiting factor, Harbour City Mass Choir (HCMC), drew the curtains down for the end of a fulfilling celebration launch with a rendition of the hymn, Bless the Lord My Soul, but this was after Nii Okai (of Moko Be and Fa M'akoma fame), the choir's music director and president, had led an altar call for patrons willing to accept Jesus Christ as their lord and saviour to do so.
The almost perfect launch, save the late end which many cared in the least, came to an end and if nothing at all was achieved, at least the very creative contemporary gospel music moved patrons and was widely accepted which hitherto was shelved by many choirs and artistes or restricted to churches by many factors. In addition to having had a fulfilling moment, they went home with the historical CD in their possession.
Earlier on, prior to the celebration launch, there was massive publicity in the capital, particularly on Sunny FM and in some newspapers which promised the best things that ever happened to the Ghana's Contemporary Gospel Music. Moreover, the 10 Ghana Cedi-tickets coming with a complimentary CD of the live album, Touching Our Youth which is was recorded, mixed and mastered by the finest and anointed Kofi Dua Anto (KODA) enticed many further.
Therefore it came as no surprise when a large turn out was seen at the launch and marvelling as well was their early coming which pressurized organizers to start the launch immediately. First to minister was Kwasi Oteng. Backed by his own side vocals and instrumentalists, he sang Don Moen's I Will Worship before delivering his own and the ever-motivating Okura Yen. No Tribe followed suit and took patrons through a solemn worship and vibrant praise session singing the praise and worship medleys from their Aforemukyia (the Altar) album.
Then HCMC's ministry partners, Impact Project, delivered perhaps a flawless and amazing ministration of songs such as He is God (a choral), a reggae medley of some popular worship songs, brilliant rendition of Trust in the Lord and ended with the soulful How Can I Love You Lord.
With a jazzy instrumental interlude welcoming on stage the celebrant choir, Harbour City Mass Choir (HCMC) who were smartly dressed to match nicely adorned stage, and as arranged on their CD, they ministered the first four songs; title track Touching Our Youth, Medo Wo, Ye Be Tonton and Madeke Me So oo. Many could not afford but stand as they heard their popular worship songs rearranged with exceptional finesse and musical diversity: particularly Madeke Me So oo, the Ewe version of Nii Okai's Moko Be led by Eyra Gadzekpo. Contemporary gospel is today the most commercial variation of gospel music worldwide.
Rather than rehashing the well known elements of traditional gospel music, contemporary gospel has modernised it with elementary fusions of crossover 'R&B', Soul and hip rhythms laced with dynamic vocals. In Ghana, this brand of gospel is characterised by a blend of foreign gospel rhythms, choral compositions and vocal patterns as well occasional tap into the country's native rhythms of adowa, kpanlogo and traditional hi-life. Danny Nettey, Pastor Helen Yawson, Nii Okai, Ike Nanor, Joyful Way Incorporated, Commissioned Family, Impact Project, KNUST'S Gospel Explosion, among others are noted for this genre of gospel music.
Here the hallmark traditions of originality, creativity and quality music are not taken for granted even if messages are touching or timely which people think should be the prime focus.
Sunny FM, Net2  TV, Metro TV, TV3, Oman Fm, Vans Royal, Devtraco, Benangel, Parents and Partners, Tema First Baptist Church, St. Paul Methodist Church and others partnered HCMC to publicly outdoor the historical standard definition of Ghana's (Live) Contemporary Gospel Music after nine years of hardwork, dedication and waiting on the Lord!