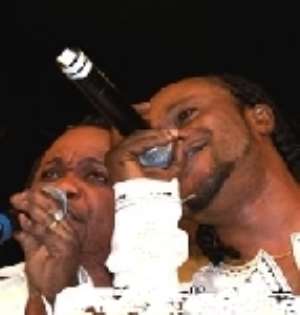 For sometime now the exquisite relationship between Charles Kojo fosu currently "DL" and Delores Afua Frimpong Manso aka "Delay" of Oman 107.1 has generated a lot of heated argument among a lot of people including the media. The sensational female radio presenter now in the Accra metropolis whose major target in the entertainment scene is to compete with the men said she is tired of answering this question of "Dating Daddy Lumba". She said as far as she is concerned she is only playing the managerial role for him and nothing else.
Some radio presenters have also called to find the truth of this matter by interviewing the lady in question live on air about this controversy. Others went to the extend of defining Daddy Lumba's new name DL as Delay and Lumba but honestly the man DL when asked about this looked surprised and shocked concerning the rumor being spread around.
Weekly Fylla in a brief interview with DL about the controversy surrounding him and Delay said "Delay has been very helpful to me and has been there for me all this while. What a woman will see and turn away this lady will face it with no fears. Managing somebody like me is not an easy task but yet she does it perfectly to my satisfaction. I am currently out with my album number 24, titled "Agenda" and the promotional CD distribution is been done by Delay and so I thinks that is the reason why people think there is something fishy going on between us".
Also Weekly Fylla used the opportunity to ask him about his new album "Agenda" although "Tokrom" the album released last year featuring the rap champion Okyeame Quame is still enjoying airplay and also still reigning the charts nation wide. The album is scheduled to be released this week and contains hit tracks like "B. Power", "Ogyeboso", "P.O.P"; the controversial song on which he made reference to Delay, "Amansan Su"; an inspirational song which also happens to be his favorite.
Advertisement
He is one of the few musicians who have been able to share with society what he has achieved in life. For his 23 years in the music industry he has a 50 acres palm plantation at Nkawie in the Ashanti Region, a hostel opposite Wisconsin university, he is building two schools one at Kasoa and the other behind his residence at south Ofankor and in the pipe line is the D.L condoms which will probably be on the market mid-next year. He said he is more particular about his condom production because he thinks the AIDS pandemic is killing Ghanaians more than any other ailment according to statistics from the Hospitals.
DL also expressed his sincere gratitude to his enthused funs for standing firm by him all these years and stated that he has something big for them come next year as he turns 25 years in the Ghana music industry.
BY: NAANA NTIRI (nanny_klit@yahoo.com)