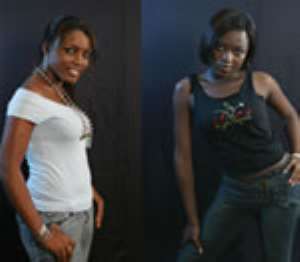 Like many young songstresses, Irene and Jane have always looked for an opportunity to show the world what they have. After competing and placing first (Irene) and third (Jane) in Charter House's 'Stars of the Future music contest the two are living their dreams.

'Irene and Jane Unveiled' is the cool new album they've put together, showcasing their talent. It's a potpourri of many genres of music. Written and composed by the two, with the exception of a few numbers on it, they simply love the album and can't wait for the rest of the world to hear it.

"We only hope that people will see it for what it is and not take it like 'abrofosem'," Irene says, referring to that Ghanaian tendency to malign artistes who dare to be different. "I hope people like it as easily as they like Beyonce's album. It may sound a bit foreign, but it is Ghanaian."

Irene and Jane are pretty much alike: they both are only children in some respects; they both started out in the choir and they both love their mothers and see them as the coolest people on earth.

Irene, 23, started out at the John Teye Memorial Institute right through to Achimota Secondary School, then to Zenith College, majoring in Travel Tourism and Hospitality. But she has had to defer her course to fulfill her dream as a music 'star'. Good thing it all seems to be working out.
When Jane completed Yaa Asantewaa Secondary School, she moved on to the University of Ghana. She is currently in her first year, studying for a degree in Philosophy and Theatre Art.
Inasmuch as they've both been waiting for an opportunity like this to 'shine', Jane, 20, has time and chance to thank for her big break.
She was in her mother's office at the Errata Hotel when the 'Stars of the future' auditions were happening. She decided to give it a try and made it all through to third place.
What Jane has enjoyed most about all the fame and publicity is that she now has her own identity.
People know her as Jane Awindor, not as the daughter of popular TV presenter, Nana Adjoa Awindor (who hosts 'Greetings from Abroad'). "Now, people see me as Jane. They do not always link me to my mum."
Unlike Jane, who had fun from beginning to the end, Irene felt more challenged in the competition.
This was because she "was not used to the competitive environment where it is always winner takes all" and she had to prove her worth week after week to stay in competition.
Singing at home with her mother, whom she sees as her mentor, was primarily all that mattered to her. Even though she may have felt intimidated by the great forces around her during the contest, she realized that it was not all about winning or losing but it was rather about enjoying the whole experience.
Being a part of 'Stars of the future has changed many things in both lives. After filling their wardrobes with new clothing with the prize money, Irene and Jane settled down to work on an album together.
"I've always seen myself a solo artiste," Irene says. "But after the competition, I realized I could also do a duet. And it's been fun working with Jane on this album."
Working on an album like this has taken each of them on a journey of re-discovery. They've both enjoyed it, even though it's not always been smooth sailing. But now the album is done. Jane and Irene have loved every bit of the experience: writing lyrics, recording in the studio, moving to Uganda to work with B1u3 etc. It's truly been a thrilling experience for both of them.
"I loved working with Irene, I see her as a big sister and whatever she tells me to do, I'll do it because it's just the way I am," Jane chips in. "I respect her a lot."
After a whole year, Irene and Jane are about to release their 12-track album that features a variety of African artistes like Blu3 from Uganda, Wutah and Amandzeba. "We've got hip hop, highlife, gospel, R&B, ballads, pop, afro-pop, everything," Jane says.
They basically wrote everything on the album, with the exception of a few songs, which were written by Kwaisey Pee and Amanzeba. The duo is confident that their debut album will make it to the top. The only problem is that they need a name. 'Irene and Jane' sounds too cheesy.
Source: Jive