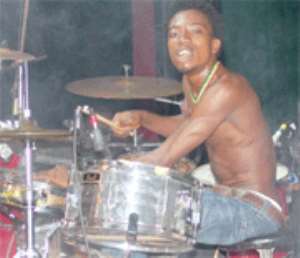 Paa Kow's attitude, when he sits behind a drum set, is to coax out everything the set can offer. He exhibits flexibility and finesse in his playing and those are the qualities that have made him the first choice drummer for Kojo Antwi, Amandzeba, George Darko and Amakye Dede.
He has toured Switzerland, Holland, England, Italy and France with those musicians but the last time an invitation came to travel abroad, it was from the University of Colorado in the United States. He spent ten weeks there working with the university's highlife ensemble and a quintet called By All Means.
The University of Colorado has been inviting accomplished Ghanaian musicians to collaborate with its highlife ensemble since 2000. Previous invited artistes include Agya Koo Nimo, Okyerema Asante, Kakraba Lobi and Mac Tontoh. At 23, Paa Kow is the youngest guest to have taken part in the programme.
"I enjoyed being in America because there is so much variety of music to listen to everyday. The quintet comprised a saxophonist, bassist, two percussionists and myself on kit drums. We worked out our own material which seemed to go down well with patrons in the clubs where we played. We are planning to regroup sometime later to record some of the material."
Hiplife is definitely not part of what Paa Kow and his friends are planning to record. The drummer finds that style of music monotonous and boring. He was emphatic that he does not have a single hiplife song on his ipod and MP3 but has Jewel Ackah, AB Crentsil, other highlife artistes, seasoned jazz drummers as well as popular rhythms from DR Congo, Cameroun and other parts of Africa.
"I love Serwah Akoto though it was recorded many years ago and George Darko's old songs still grab at you. I like to inject new grooves into my playing all the time and I pick up a lot of those from listening to rhythms from other cultures. I practice them everyday."
Paa Kow has an actual drum set to practice with these days. He used to gather and play on old cans at Enyan Denkyira, his hometown and where he grew up, when he realised his interest in drumming at a very early age. He says his mother is still keeping some of the old cans he used to practice with.
Growing up in the same house with an uncle, Carlos Sekyi Ampomah, who owned a group called Enidaso Professional Band, Paa Kow could not help getting hooked onto music from early childhood. His mother was a singer with the group.
He regularly watched them practise then go off on his own to work on the old cans. By the age of seven he could comfortably sit behind the drum set and play. From then he was allowed to sit in on some particular numbers.
The band's regular drummer declined to go on a trek to the North at a certain time and Paa Kow filled in for him. His uncle asked him to maintain the drum seat after that. He travelled around the country with the Enidaso Professional Band and was soon noticed by other band leaders.
He moved on to the New Creation Band, then followed three years of work with Amakye Dede after which he played with Megastar and Western Diamonds.
He is in reality now a freelance player who attaches priority to gigs for Amakye, Kojo Antwi, George Darko and Amandzeba. They happen to be his favourite Ghanaian musicians but he also talks admiringly about Kwame Yeboah.
"He is so good and we share lots of ideas when we both play for Kojo Antwi," he says about the London-based keyboards player, arranger and producer.
Paa Kow has so far featured on recordings for Yaw Sarpong and a Nigerian musician called Dede. He will soon go into the studio with Amandzeba whom he claims to love playing with because he gets the chance to display his grasp of African grooves when backing him.
"There are so many rhythms from Ghana and the rest of Africa to tap from. I'm learning everyday to improve my playing. I think all the young musicians should make it a point to improve on their knowledge so that Ghanaian music will grow and affect the rest of the continent and the world."
High hopes there from the young man already contributing his bit towards the upliftment of Ghanaian popular music on drums.... Paa Kow.
Story by Nii Laryea Korley