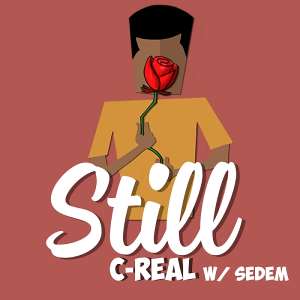 Rapper & Poet C-Real's Name Is Synonymous To Hip-Hop And Has Made An Indelible Mark On The Music Industry By Making Music On Themes Ranging From Politics To Socio-Economic Issues.
C-Real is looking to follow on the good run he had in 2015 with the release of his sophomore album under the executive supervision of an internationally acclaimed Hip-Hop producer. The Em.CEO in a chat disclosed that he is 'creating music he is comfortable with, while pleasing his fans' expectations'.
Falling short of revealing the album title and the name of the executive producer and guest features, C-Real is looking to dropping the first single off his new album in March with an accompanying video featuring one of Ghana's rap heavyweights.
However, the 'Do The Azonto' hitmaker has released a single 'STILL' with Sedem as his way of expressing his love to his fans.
When asked about motivation for the song, C-Real stated that he wanted to express that love is real whether it's pleasant or not and there are many people out here who may be experiencing the unpleasant realities that come with this emotion.
Download, listen and share 'STILL'.
Twitter - @C_RealMC