Audiences Wowed At The Experience With Diana Hamilton In Ghana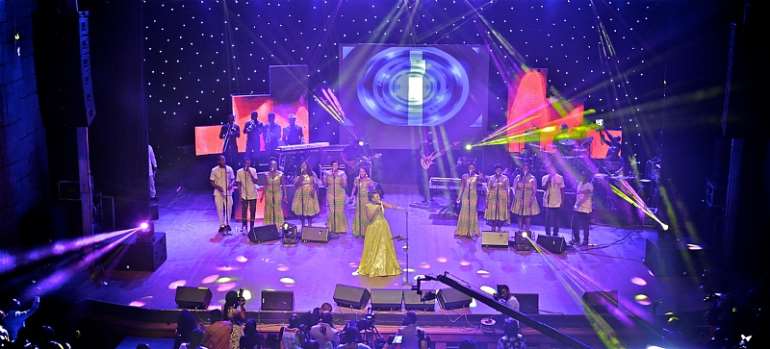 The 'Experience with Diana Hamilton' finally arrived on the shores of Accra on Saturday the 30th of January and surely it did not disappoint. The event really lived up to the preceding hype.
Rev. Danny Danso kicked the evening off with a medley of energetic praise and worship songs followed on by young up and coming artistes Pee & Kay who belted out songs from their Aseda album. Impeccably dressed Brother Philemon flew in all the way from China and was also in on the action with his full band. U.K. Ghanaian artiste Samuel Refined 'A' got the crowd involved and treated them to his hit single 'Way maker'.
By the time Uncle Ato mounted the stage, the crowd were already in a state of worship and stayed on their feet throughout. As is typical of Joe Mettle, he did not disappoint either, treating audiences to a series of his well known soul inspiring worship songs, sending the audiences into deep worship as they sang along with him.
If anyone was in doubt as to the inclusion of the acclaimed Nigerian gospel music giant Sammie Okposo, their doubts were quickly dispelled when the 'Welu Welu Master' mounted the stage. His ministration on the night was energetic and infectious and jelled so well with PL Crew, the band for the evening. His ministration was interspersed with a carefully choreographed dance with his backing vocalists and band, and not forgetting the waving of his trademarked white handkerchiefs.
Then the lady of the night was introduced to the crowd by the MC Randy Abossey (Joy FM) to an exquisitely presented stage and carefully designed lighting. Diana walked majestically onto the stage in her elegant gown to a thunderous applause and belted out song after song of her popular hits like 'Osoro be kasa' , 'Eye Woa', 'Overwhelmed', 'Papa Reigns' and her current hit 'Work In Progress' from her recently released 'Yehowah' album.
Her performances on the night exuded a calm confidence and a connection with the crowd, with her honed distinctive voice ringing throughout the auditorium and supported by harmonies of her backing vocalists and the very capable PL Crew.
EC12oneTV made a surprise presentation of a portrait of Diana to her during a short intermission.
The night was attended by various dignitaries and celebrities including the General secretary of the church of Pentecost Apostle Alex Kumi-Larbi, Dr. Peter Tobin, super model Victoria Michaels, Anita Erskine (Starr FM) SP Kofi Sarpong, Ohemaa Mercy, Cwesi Oteng and many more. It was a very successful night and organisers have hinted that plans are already afoot for DH Experience (GH) 2017 and a date in Kumasi.
The event was organised by Mace promotions, sponsored and supported by Mace Group, Tobinco Pharmaceuticals, Zoom Lion, Abii National, Priority Insurance, Halifax Asset Management, Eagle Properties, Special Ice, Pent TV, Atinka FM, Peace FM, OK FM, UTV, Multimedia Group, 1615 Media and Bethel Retreat Centre