Rashelle Blue: Get Familiar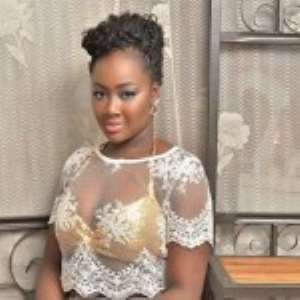 IT's anew year, so it's only fitting that we start this page off by spotlighting a new face. Enter the sultry songstress Rashelle Blue, a rising star to watch out for. Based in the United Kingdom, rashelle is poised to become quite a big deal, as her music is already on most radio stations' playlist. she is in Ghana for a promotional tour, so i caught up with her to find out more.
How did you begin your career in music?
Rashelle: It started when I was about five years old performing at weddings and private parties. I got into the studio for the first time when I was 14, which was 11 years ago. I got affiliated to a group called TMC back in Germany. They did a mixture of hip hop and R&B. I got in the studio with them and did some work. It was a fantastic experience. I knew this was what I wanted to do.
How would you describe your brand of music?
Rashelle: Definitely multi-genre. I listen to all forms of music which translates to my own product. It's always a good idea for artistes to know that they branch out into other forms of music. It allows you to explore your talent and versatility. However, a lot of artistes might do it because they are told to or maybe for commercial purposes. I have a passion for all kinds of genres. I love jazz, R&B, hip hop, etc. That's the reason why I do it.
Looking at the Ghanaian music scene, where do you think your music fits in?
Rashelle: Definitely Afro-pop. I would say it's quite commercial.
What process do you go through when writing your music?
Rashelle: It varies. I could be sitting somewhere and an idea for a song pops up into my head. Other times, I could be going through something in my life that could influence a song. Maybe I could be in the studio with intention to write a song. It all comes very naturally.
What do you normally sing about?
Rashelle: Mostly about love. I think that's what music in general is all about. Love, personal experience, struggles, etc. I sometimes tend to look at the struggles others might be going through. That's actually what my new single 'Memp3 Basabasa' is all about. It's not my personal struggle, but we've started a campaign where we are addressing other people's struggles, whether that's domestic violence, being bullied or anything they might be going through. It's going pretty well. The response is really good because we're trying to make the audience know that they can stand up for themselves in the face of adversity. It feels good to be able to motivate people to do something good.
You live in London, how often do you come to Ghana?
Rashelle: It's been 14 years since I last came to Ghana. I was 11 years old when I came that time, so this visit has been a totally new experience, since I'm all grown up now. (laughs) My trip here has been awesome. Ghana is a country I love, and I will be coming here a lot from now on.
What are your thoughts on Ghanaian music?
Rashelle:I appreciate our music very much. I think it's a bit underrated by the outside world. Our own people also don't really appreciate is as much as they should. I think they will come to embrace it a bit more in the near future. I'm doing quite a lot of collaborations with Ghanaian artistes. I've got music coming up with D Cryme, Kofi Kinaata, Asem, XO and many more. They are all quite humble and sweet. So far, they've all been very welcoming and supportive.
Do you perform a lot in the UK?
Rashelle:Yeah, quite a lot. I recently opened up a show which featured Bisa K Dei and R2BEES. I try to stay busy. Performing on stage is what it's all about for an artiste.
What's life like for a young Ghanaian artiste on the come up, living in the UK?
Rashelle:It's not easy. A lot of people tend to think that when you're in Europe life is bliss. It's not. I'm struggling to make it like everyone else. It's certainly not a clear path. Besides all this, I'm a student, so I'm really 'on the rise'. But I'm getting there. (laughs)
What is it that you enjoy the most about what you do?
Rashelle: It's really hard to explain, but it gives me a certain satisfaction. I feel completed. I cannot see myself doing anything else but this. This is just where I need to be.
What have you been up to since you've been in Ghana?
Rashelle: It's actually been more hectic that I expected. We've had a lot of interviews. We just got back from Takoradi. It was a whirlwind, but I've really enjoyed it!
What's your advice to other upcoming female artistes reading this?
Rashelle: It's all about will power, the belief in yourself and patience. You also need a good support system. My manager has been really supportive. Without his help, I probably wouldn't be where I am right now.
Do you think females have an unfair disadvantage when it comes to the music scene?
Rashelle: The scene in Africa is dominated by males, so it's always fresh to see a female artist eblow up, and that can be difficult. I expected many obstacles, but things have been really smooth for me. (laughs) It's been a great ride so far. I hardly think gender has a lot to do with it. If the product is good and it's marketed well, it will sell. Period.
What would you say is your biggest obstacle so far?
Rashelle: Well, I'm UK-based, so getting the exposure in Ghana is the challenge. But it's a starting process, and we're making it happen. God has been good.
What are you working on presently? Rashelle:A lot. We're working on the collaborations. So that's a lot of studio time ahead. We are flying back to the UK soon. There are quite a number of shows lined up out there as well. It's going to be a very busy year. I will be back in Ghana to perform soon enough.
A message to your fans?
Rashelle: Follow me on Twitter/Facebook/Instagram @rashelleblue!! I appreciate all the love and support! God bless!!