Aj Nelson Officially Releases  "Power To The People"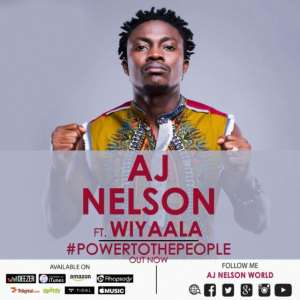 Ghanaian hiphop/hiplife artiste, AJ Nelson has officially released his much anticipated song, "Power to the People" on radio stations across the nation and online including websites like Deezer.com, Itunes, Amazon.com, Rhapsody, 7digital.com, Spotify, Tidal, Apple Music and others.
This is to solidify the "Power to the People Campaign" which he initiated in October, 2015 to empower the youth to use their voice as a tool for positive change in society. It features female Afro-Pop singer, Wiyaala.
AJ Nelson has said that the content of the song is to condemn wars and propagandas but to encourage the world to let peace prevail.
He has however said that the song is not for political purposes but to motive the youth so no political parties should approach him with the motive of "buying" him due to this song during the period of election.
He has revealed plans of going on a nationwide tour with the "Power to the People" Campaign from the beginning of the year 2016.