Frankie Free ft. Great Adamz & Sharon Johnson - TURN OFF THE LIGHTS (Audio/Video Teaser)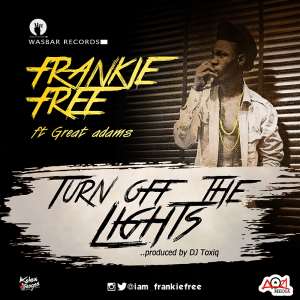 ​From zero to hero, the bell-ringing fable of Wasbar Records signee, Frankie Free, has seen the fine artist develop over the years and remains valid as he's stringed up a record of events within the Nigerian music industry from the release of his mix-tape a couple of years back to working with notable artist on the Nigerian music scene and now becoming quite a symbol under Pasuma Wonder's (the Fuji legend) record label.
Putting in work could be seen as a guideline path of thoughts/action for Frankie Free and he never softens or yield to pressure and/or challenges faced as we see with the release of his 2nd official single under Wasbar Records, the DJ Toxiq produced offering titled "Turn Off The Lights."
Wasbar Records and A021 Media proudly presents her budding artist, Frankie Free, with his latest offering titled "Turn Off The Lights"; with the subtle delivery from Great Adamz and finesse vocal rendition driven home by Sharon Johnson, all complemented by DJ Toxiq's excellent instrumentation, this easily adds up to your favorite play-list and is definitely the fan's delight. Just as this offering is being served, it's coming through with an official visual likewise, as directed by Dele Ishola Visuals; check out the offering likewise, the video teaser as we anticipate the official video set to be released in just a matter of time which would be closely followed with the Skuki-featured piece titled "Gbege" and the Minjin-assisted single titled "Sweet Melo." | ENJOY!!!
Click To DOWNLOAD "TURN OFF THE LIGHTS" DIRECTLY TO YOUR DEVICE
Click To WATCH "TURN OFF THE LIGHTS (Video Teaser)" via Youtube
CONNECT WITH "Frankie Free"
Twitter: @iam_frankiefree