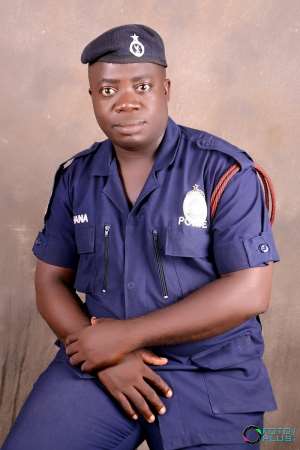 Rev.Gabriel Ansah, host of Nasem University on Adom Fm,has appealed to the Inspector General of Police;Mohammed Alhassan,to promote Officer Kwasi Ofori.
Officer Kwasi Ofori,is the current Police Officer after Sp Kofi Sarpong to release a gospel album titled 'God's Power ' with "Hwehw3 No"as the hit track being played on various radio stations.
Rev. Gabriel Ansah,made his passionate appeal to the IGP during an inspirational studio chart with Officer Ofori:
"I was born to serve. God protects we the Police and he is supreme. It's through his favor that we are also able to provide protection"Officer told Rev.Ansah after being asked about how he combines his work with music.
Officer, throwing more lights again said,"I discovered my talent when I was 14yrs but was able to record after serving a pastor at the Methodist Church at Akyem Maase,I then joined the teaching Service,the Police Service and now serving God and Man through this music .So actually,i was born to serve".
"wow,you are really doing well and worth celebrating .The IGP must do well to promote you and other police officers spreading the word of God through gospel Music",Rev.Gabriel Ansah also said.
Officer Kwasi Ofori is with the legal and prosecution unit in Accra.
Some of the songs on Officer Kwasi Ofori's album are,I'll Praise,God's Power and "Hwehwe no ft.Francis Amoh.