Pure Comedy: 4 Of Ghana's Best Stand-Up Comedians To Rock Ashanti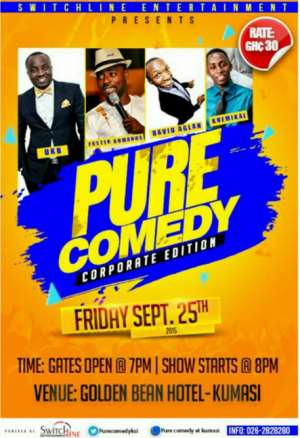 Friday September 25th is a date you should mark in your diary if you live within or near the Ashanti regional capital, Kumasi as the creme-de-la-creme of Ghanaian stand-up comedy will be in town to trill you after a hard week at work.
Four of the best comedians on the continent; DKB, Foster Romanus, David Aglah and Khemikal will be at the Golden Bean Hotel to give Ashanti their best performances.
The Corporate Edition of Pure Comedy is being put together by Switchline Entertainment, an event management company which is committed to presenting residents of the Ashanti region a variety as far as quality entertainment is concerned.
The event which is the first of several comedy events is mainly by invitation. One of the organizers of the event; David Aglah tells rawgist.com however that there will be a few tickets at the gate for those who could not receive invites.
He says the event is expected to be a rib-cracking experience which will get Ashanti yearning for more. He also reveals there will be several side attractions which are "just mind boggling".
rawgist.com is proud to be associated with the event and will keep you updated.