Kyeiwaa Dumps Husband, After One Week Wedding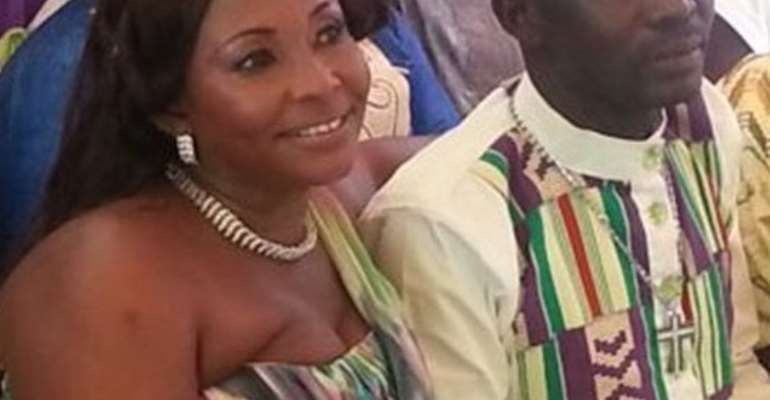 Reports available indicate that Kumasi-based popular actress, Rose Mensah, 52, also known as Kyeiwaa, who got married on Sunday August 30 to one Daniel Osei, aka Akwasi Bronya, has finally ended her less than a week's relationship with the Kumasi-based spare parts dealer.
Kyeiwaa who confirmed her divorce with Daniel Osei on Adom TV on Thursday said she has had to swallow the bitter pill of divorce as a result of the ranging controversy surrounding the businessman whom she got married to last Sunday.
According to Kyeiwaa, Akwasi Bronya lied to her that he has not married Florence Kyei and that they were just living together, adding that since the truth was out and she cannot cope with the humiliation, she has decided to end it all.
'I have returned his drinks and he has accepted them because I can't afford to be a second wife…I prefer to remain single than to do that,' Kyeiwaa said in an interview.
'He didn't show any sign that he had a wife. We dated for a year. I trusted him but he chose to betray me. He is very cunning. The way he is, he can easily get you to fall for him. I met him on the streets of Kumasi. I knew he had a child but he assured me that he had not engaged her.'
'So it came to me as a shock that he had actually married her legally. I had never liked married men. He wasn't truthful; so when I realised he had a wife, I decided to exit,' Kyeiwaa told Fiifi Banson on Kasapa FM yesterday.
Reports available indicate that Daniel Osei who claimed he is single with two children from two different women rented the crowd that attended the ceremony.
Daniel Osei who spoke to Umar on Ash FM in Kumasi soon after the marriage ceremony, denied reports that he is married to Florence Kyei as well as spending the night with Florence Kyei after his marriage ceremony with Kyeiwaa.
According to him, some years back, he got married to someone in Italy but had to return home to find another woman because the woman in Italy was not able to conceive.
He added that whilst in Ghana, he met a lady who gave him a child, adding that it was not long after his return to Italy that the other lady also conceived. The relationship with the two women, he said, ended in 2012.
Meanwhile, Kyeiwaa's father, Nana Appiah Kubi, who earlier confirmed his daughter's marriage to Daniel Osei, aka America man, on Neat FM in Accra, said he led a delegation to accept Mr Osei's marriage to his daughter.
He said he is not aware that his daughter's husband has a wife and until any of the two parties come to inform him of it, he is going to give deaf ears to media reports.