The night Ludacris "disturbed" Ghana's peace!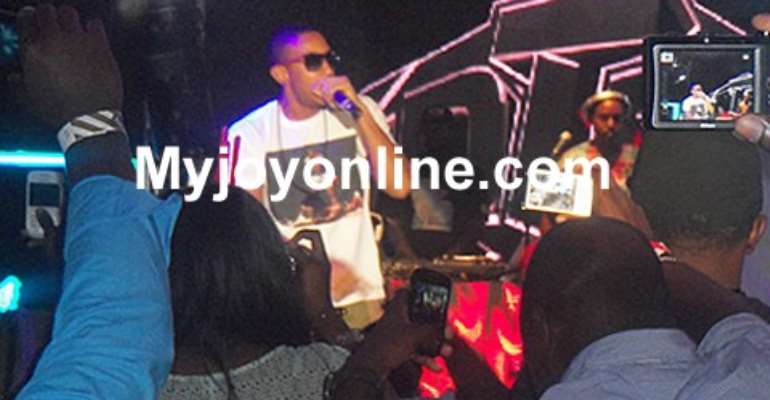 Saturday night's Vodafone 020 Live Concert at the Dome of the Accra International Conference Centre came with it a promise, a promise from the headline act, Ludacris that he was going to make history.
While he will not be the first international act to headline a show in Ghana, this was Christopher Brian Bridges' first ever performance in Ghana and Ghanaians were expectant.
Before Ludacris will make that historic appearance, there were very visible and audible signs that Vodafone, organizers of the concert, has learned and improved on past shows.
Being the third time, they were bent on hitting the nail right on the head and yes they did. Fans were greeted with a masterpiece of stage well lit for a show of such magnitude. Apart from the giant LED screens which made its presence felt at every inch of the stage, the sound was on point!
To avoid an always boring VIPs/VVIPs from ruining the beauty of the show, Vodafone did the right thing by taking them to the back of an enthusiastic patrons who were ready to party. The seating arrangement at the Dome was just fantastic!
Making a return to the show this year was Eddy Blay Jnr. He hosted last year's show with American model Amber Rose, which was headlined by R&B superstar Trey Songz. TV personality Caroline took the spot of co-host for this year's while Ghana's number one DJ, DJ Black manned the turntables as the DJ for night.
After Eddy Blay had proven his worth as not just a host but an equally talented rapper fit for the bill for the night, 2012 Vodafone Icons: Mixed Edition winners, Black N Peach took the stage to set the ball rolling.
The trio, one male and two females, with impressive choreography performed Osibisa's Osa Osa O, Wutah's Kotosa and capped it off with Tina Turner's Simply The Best, a song that handed them the Vodafone Icons title.
Nigerian super star, Naeto C, born Naetochukwu Chikwe, was next on stage. The Nigerian, dressed in a simple t-shirt and pants, did not come cheap with his performance.
His presence on stage charged the Dome with some fans screaming "now the show has started." Naeto C dished out popular tunes including, I Gentle O, Lagos Party, Sample, Kini Big Deal, 5&6, and before he capped his performance for the night, he ushered in a 10-year-old rapper, Swag Gee who did not hesitate to give a go at the mic.
The young rapper, who turns 11 in November this year, got the almost packed Dome cheering. A 'matured' lady who seemed to have fallen for the rapper screamed, "Awww...he is so cute."
Naeto C capped his impressive performance with his smash hit 10 Over 10, a song that got everyone in the Dome on their feet, singing and dancing along.
Music trio, 4x4, made up of Captain Planet, CoDed and Fresh Prince, came looking fresh and elegantly dressed as usual.
In what seemed to be the boldest attempt in their music career so far, the group opted to perform with a live band rather than their usual miming.
Backed by the very talented Kwame Yeboah Band, 4x4 gave off what pundits in the media section of the Dome described as their best performance ever.
Their combination with the band was just unparalleled. Fresh One, Waist and Power, Mokoni, World Trade Centre, Hot Girl Dot Com, and Miss Doctor, were their arsenals. Hit after hit, the trio wowed and thrilled patrons, they were just a delight to watch.
After a brief musical interlude, the main act for the night, Ludacris burst on to the stage with an impressive energy. His entry drew loud cheers from an audience who seemed to have waited too long to see their icon.
With a neatly cut hair, shades and a white t-shirt to match, the three-time Grammy Award winner went straight to work dishing out some of his popular tunes.
Screaming fans sung along to hit tunes such as Number One Spot, Act A Fool, Southern Hospitality, Area Codes, Yeah, Break Your Heart, Money Maker, Runway Love, Pimpin' Over The World, Roll Out, Stand Up, All I Do Is Win, My Chick Bad, and Move B***h. He could be heard constantly saying, "Too many hit songs."
The co-founder of Disturbing Tha Peace put the icing on the cake with How Low Can You Go. Half-way through that performance, the unexpected happened, Ghana's fastest rapper and last act for the night, Sarkodie emerged onto the stage.
Together, Ludacris and Sarkodie performed a remix of the song. The crowd went gaga! Sarkodie proved why he was called the fastest rapper and Ludacris just watched in sheer admiration.
Ludacris exited after that performance paving the way for Sarkodie to finish the deal. The Black Entertainment Television (BET) award winner responded to the call superbly.
Mixed with intermittent freestyles, Sarkodie treated patrons to renowned hits including, Saa Okodie, Life, Hustle (remix), When I Grow Up, Pizza and Burger, Boga, Baby, and Give It To Me.
After thanking patrons and Ghanaians for supporting him from his days on the Kasahari Level to then Ghana Music Awards, the BET Awards and hopefully to the MTV Awards, he capped the night with You Go Kill Me.