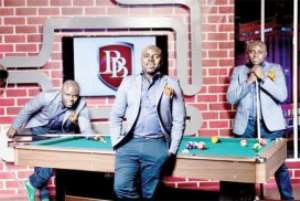 If all goes as planned, Kojo Frempong will be on television again tonight in a different capacity away from the sports shows we have known him with. The renowned sports presenter is taking on a new role as host of a male related and focused show.
Viasat1 has made no secret about this new show they will introduce tonight. According to the website of the station "Boys Boys is a platform that indulges and entertains some of the most influential, successful, and outspoken Ghanaian men. The one-hour show discusses issues relating to men and what they enjoy talking about…from fast cars to bikes to women to cocktails, and more!"
It is evident from the above that we are likely to be witnessing what happens when young successful men meet say at the pub and what they usually talk about. However, my first reaction when I heard about Boys Boys was that it would be a show for students and young folk with carefree life to meet and hobnob as that is what seemed appropriate in my mind for such a title.
Yet the explanation given, thus far, means that my perception was wrong as those being targeted with this show are career people, successful or on the way to success and upwardly mobile who meet occasionally to chat about all the things that men talk about.
That is where the bubbly, jolly, chatty Kojo Frempong comes in to moderate the conversation to ensure that the weekly show speaks to the theme and topic chosen for each episode, I would assume.
Kojo Frempong has been the host of sports shows on Skyy Power FM, was the presenter of sports shows on Joy FM, host of Sports Station on TV3, host of Football and All amongst others. That is why my wonderment and only question was why the choice of Frempong for this show when he is known to be more biased towards sports than lifestyle?
But there is always more to a man than just sports and those who know Frempong off the sports arena know him to be a witty all rounder who can hold his own in any storm. His choice is therefore apt for the kind of line the programme seeks to tow and the audience profile it would seek to talk to.
As part of the synopsis on the website, it goes on to add that a certain "Bex will be on the 'Technology gig' segment to update the men on what's trending!"
Boys Boys is a Viasat1 own production and we shall see how it would play out in the coming days. for starters, just try and make a date with Kojo Frempong as he meets with his boys boys when the show premiers at 8:00pm tonight and hear what they have to chat about.
This show is just one of the many new locally produced shows the station has been introducing to their viewers over time. Viasat1 had been accused earlier on as having too many foreign content when they started then they introduced programmes such as The One Show, Laugh A Minute (not wholly local, but you get the point), local studio discussion of Uefa Champions League and It Runs in the Family to balance the bouquet.
It seems that the station is now trying to introduce a lot more local content and have or will release a few more. One of the new programmes they recently introduced is A Day in the Life which has the immaculate award winning actress Ama K. Abebrese as the presenter.
A Day in the Life highlights the lifestyles of top personalities, celebrities and the most loved, respected and cherished icons. It also seeks to delve into the normal daily life of high-profile people to see how they spend their day, from morning till night.
It is obvious from her body language that Abebrese has fun meeting and chatting with her guests on the golf course, at home, cooking, charity/humanitarian work, etc as she invites her viewers to see the side of her guests that is rarely seen and also to get to meet their families, friends and close companions. A Day in the Life is exclusive to Viasat1 and airs every Sunday at 8:00pm.
Another programme the station recently introduced is This Morning, a two-hour long live morning show that airs at 7:00am from Monday to Thursday and hosted by Kokui Selormey, who is described as "a renowned top class opera singer with radio and TV background" and Patrice Amegashie also known for his strength in radio broadcast as former presenter at Radio Gold.
According to information available on the station's website, the first hour of the show brings audience up to speed on issues of current affairs and what is happening in Ghana with regards to news, traffic conditions in town, what's trending and more.
The second phase is Lifestyle and Entertainment based. It features a unique theme of the day to create a level of predictability without causing format fatigue. A resource person is always present each day to walk to the hosts and viewers through the show.
Nutifafa Atta is a well known sports presenter and analyst who has done most of his shows on TV3. The young man has also recently found his way to Viasat1 and on the programme Football 360, a live interactive, hour-long talk show that discusses contemporary standout issues from Ghana and around the world of football.
The show which airs on Sundays at 9:00pm headline football news, controversies that cropped up during the previous week and issues bothering upcoming future events encircling the world of Football are all thoroughly examined and debated.
Football 360 analyses stories from unusual yet relevant angles - a cocktail of humor, intertwined with seriousness, ensuring that viewers tune in to Football 360 at 9pm every Sunday on Viasat1. Nutifafa knows his stuff and he delivers.
If handled well this could be our own version of Match of the Day as at this moment there is no programme of its kind on TV at that late hour which brings to football fans the major actions of the football weekend except they wait till Monday to watch Sports Highlights and or Sports Station on GTV and TV3 respectively.
Very soon Ghana will have its own version of America Has Got Talent and maybe our own Nick Canon when Viasat1 introduces their new show Born Starz into the market as they start to audition for talent over the next few weeks.
According to the station, Born Starz is a new Viasat1 talent show that would seek to unearth magicians, jugglers, puppeteers, comedians, acrobatics, dancers, singers and other performers of all ages competing for a grand prize. Among the significant features in Born Starz are the opportunity given to talented amateurs and unknown performers to build on their skill confidence.
They are convinced that the show would be "a true celebration of Ghanaian talents as an array of both young and old vies for their chance to strut and perform on stage with the aim to win the grand prize." We shall see how this comes.
Another show the station has introduced is The 5 Brides which is produced by Viasat1 and Venus Productions. It tells a story about five intriguing women whose lives revolve around the joys and angers of love, betrayal, deceit, and what goes on in the typical Ghanaian marriage or love setting. It also touches on controversies, innocence and issues relating to parenting.
The actors are a blend of young, contemporary and young movie stars and it has among them Paulina Oduro, Chantelle Asante, Regina Nelson, Julia Clement and Princess Shyngle.
Oh before I leave just take note that you are likely to see a new show on Viasat1 called Delay when it premiers at 4:00pm tomorrow. Don't ask me why and how because I have no answers, I just got an e-mail that said "Delay premiers on 28th September,2012 at 16:00." Go figure!
source: Francis Doku/Graphic Showbiz