Miss eXcel cooking Competition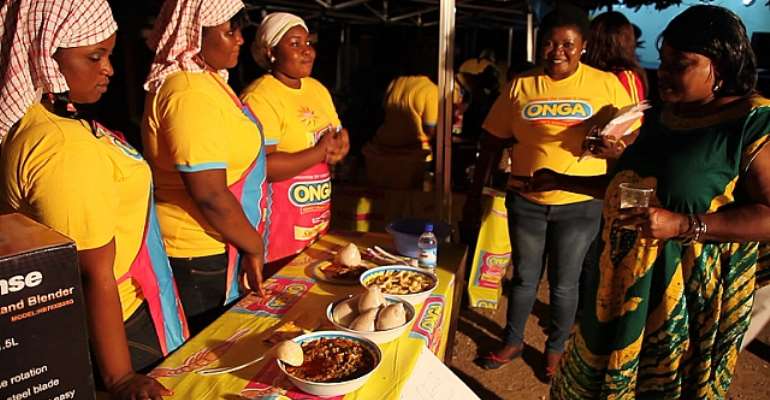 15 Contestants who have been chosen for this year eXcel Plus reality pageant over the weekend visited the CountrySide Orphanage in Awutu Bawjiase in the Central Region to interact and share with the homeless. The ladies performed one of the tasks of the pageant, ONGA cooking contest which tested their cooking skills as women, time management and personal hygiene. The task forms part of the ONGA product activation towards their eviction.
The ladies were put into a group of five to prepare local dishes such as Banku and Okro Stew, Apapranasa and Palmnut with Crabs, Omo Tuo and groundnut soup within an allotted time of two hours which they managed to finish. The contestants treated the children to lots of entertainment, interacted with them and randomly picked at least a child who they would be mentors to after the pageant.
The contestants together with the sponsors Capital 02 health company , Yazz, Hisense, Cici Monet and Promasidor ONGA brand as part of their social corporate responsibility presented bags and boxes of Capital 02 drinking water, ONGA products, school bags, A television from Hisense, bags of Rice and cartons of Chicken from Cici Monet investments to support the home.
The General Manager of Capital 02 health Company Mr Benedict Otoo expressed the company's readiness to support the home with 100 bags of water every month to solve the water problems in the orphanage.
Products from cowbell were giving to the children who emerged as winners of a dance competition.
Sponsors for this years Miss eXcel are capital 02, yazz , Blessed Supplies, Aloette, Medium Dwelling Company, Diamond Mars, Rose Aluminium, Blackpool Multimedia, 21st century, Hisense, Cici Monet Investments, RTK Heritage Estates, Cowbell, Excel Lounge, Konad Ghana Limited, Pico Systems, Eden Micro Finance, Global Strategic Resources, Jah Bless Aluminium Works, Joy Industries.