30 Ghanaian Celebrities To Endorse HE John Dramani Mahama For 2012 NDC Campaign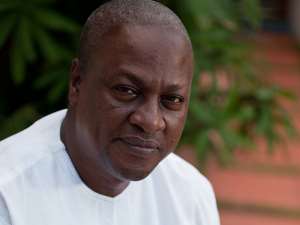 As we enter into the political season, there are lots of Ghanaian celebrities who will be approached by some political parties' whiles others will from their own accord devote themselves to their own political parties.
A research GhanaSuperStars.Com has done in the entertainment industry reveals HE. John Dramani Mahama has won the hearts of many celebrities in the showbiz industry. The methodology of our research was based on phone calls. After having one on one secret chat with over 30 Ghanaian superstars who are in the various entertainment cycles, most of them seem to have it for John Dramani Mahama than Nana Akuffo Addo.
As we gather the list of these celebs who span from movie, music, comedy, fashion, modeling, football stars and other concerned entertainment critics, some of them promised they will come out at the right time to declare their stands damn the consequence. Already, one ace radio broadcaster, Abeiku Santana of OK fm has come public to endorse Mr. Mahama.
One celebrity GhanaSuperStars.Com spoke to,revealed to us that a group has been formed; named, CFM which stands for Celebrities for Mahama.
Other supporting groups are; TOPY(TEAM OF POPULAR YOUTH OF NDC (T.O.P.Y), one of the powerful NDC groups, John Mahama One Man supporter (Strong John Mahama Supporter) and other top NDC gurus to help graciously to make John Mahama continue his political works for the country.
We at GhanaSuperStars.Com will soon print the 30 man celebrity squared which is made up of movie stars from the camp of one of the top movie production houses which is known for making all the movie stars in the country , together with top MUSIGA members who are actively in the entertainment industry, top footballers amongst others.
The question we are asking is, will this endorsement by our celebrities translate into huge votes for HE John Mahama and the NDC at large? Because NPP's presidential candidate Nana Akuffo add did same in 2008 electoral campaign but lost abysmally.
Mustapha Attractive
Journalist