GHANA SUMMER JAM IN AMERICA: A TASTY TREAT PROVIDED BY B.D.N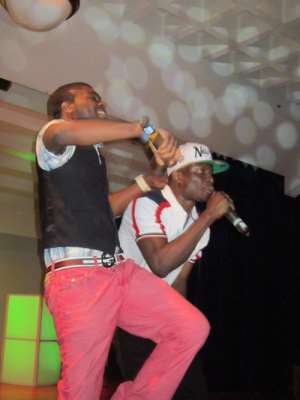 June 18, 2012 - A bottle of jam, externally, can look like a plain bottle. However, internally, the jam is sweet, lively, and full of flavor. Just like a bottle of jam, the GHANA SUMMER JAM , which was presented by Boogie Down Nima (BDN) Productions on Saturday June 16,2012, was full of flavor and quite lively. The contents of the Ghana Summer Jam provided a nice blend of Ghanaian music and performers.
The GHANA SUMMER JAM took place in the Armenia Ballroom on Saturday June 16, 2012 in New York , New York (U.S.A). From the outside, everything looked calm, however, internally, the Armenia ballroom was abuzz with excitement and anticipation. The Ghana Summer Jam, which was slated to start at 9 pm, opened up with a fashion show. At 12:40 a.m, the artist by the name of King David, a.k.a Microphone Julor, was the first musician to appear on stage. As the first musician granted access to the stage, he energized the crowd and sang a selection from his collection of tunes, including "Buway", "I'm the Business", and " SL Boys We Love". "SL Boys We Love" was a catchy tune which seemed to be well known among the concert crowd. At 12:45 am, Sunday morning, Kojo Baafi, who was introduced as a "hometown boy" by MC Papa Linc, performed on stage as the second performer. Dressed simply in a white shirt and a pair of Adidas sneakers, he sang a variety of tunes which included lyrics like," K.O.J.O….move your body even though you pretty, shake your body". By the time Kojo Baafi performed his third song, he was joined on stage by another equally energetic performer, still encouraging the crowd to "clap (their) hands" and "shake (their) bodies".
At 1:00 am, Prince Doggy Dawg took to the stage. Prince Doggy Dawg took his performance to a whole different level by jumping into the crowd with two other performers and dancing with two people randomly. The crowd was entertained by his energy movements. At 1:05, the crowd was introduced to a different kind of performanace, a.k.a K5! K5 !contains a group of four guys, named Cliff Owusu, Nana Boateng, Quazi Boateng, and WK Boateng. K5! appeared on stage looking like 4 neatly dressed businessmen, but then they started dancing in a non-traditional way, which provided massive comic relief. K5! was unpredictable- just when it was assumed that they would be performing in a certain way, they would flip the script and dance in an unexpected way. For those out of town guests who had been invited to the Ghana Summer Jam , including Ms. Virginia Plus America, A.G Ansong, they were quite thrilled to discover the uniqueness and humorous nature of K5! (Prior to the Ghana Summer Jam event, many hilarious short promos were created to market the event, and members of K5! appear in some, including the one entitled, "Teach You How To Azonto", under the user name kliff444). Once K5! departed the stage, DJ 14k and DJ Ronny played hits by Zigi, Ruff N Smooth, Sarkodie, D'Banj, and Edem to keep the crowd entertained. While the crowd was dancing, UnderDaRock.com was busy interviewing guests and Odufent Photos was rapidly taking photos of the crowd which grew immensely as the morning progressed. After the intercession, a female artist by the name of Yaa Dakwaa (YouTube user name : YaDaQua) took the stage and sang her gut wrenching songs which were heartfelt and well written. Immediately following her performance, at 2:00 am, Nana NYC performed. Immaculately dressed in a dark suit, Nana NYC, the host of iRap TV and an artist internationally known for his musical versatility, gave an intense performance of a variety of hits including "Me Da Ase" and "Oh Nana". Never one to disappoint, Nana NYC poured his heart and soul into his performance and the audience was quite grateful to receive it. Intercession II followed the performance of Nana NYC, and after twenty minutes, Tiffany appeared on the stage. Itz Tiffany, the artist formerly known as Tiffany, was dressed quite simply in a coral orange blazer, turquoise shirt, stone washed blue jeans, and sky-high golden platform shoes, but her stage etiquette was strategic and exact. Itz Tiffany started her segment by singing one of her earlier hits, "Fake London Boy", while hundreds of women in the crowd naturally sang along with her. After introducing "Fake London Boy" to the audience, Itz Tiffany picked four girls from the crowd to join her on stage in an "Azonto" contest. With many girls eagerly waving their hands, hoping to be picked, one girl took the matter into her own hands, and boldly walked onto the stage and automatically became a part of the "Azonto" contestants. The DJ played music and each girl was asked to display their Azonto dancing skills. Itz Tiffany, who is highly capable of doing the Azonto dance, at one point asked the girls to stop dancing because according to her, they were not doing the Azonto accurately. Eventually, Itz Tiffany, with the help of the crowd's cheers, picked the night's Azonto dance champion, and as a gift, gave the participants a copy of her promo CD which included the singles "Carry Go" and "Agyekoom". Once the Azonto winner was picked around 3:00 am, Itz Tiffany sang "Last One" and transitioned into her latest song,"Agyekoom". During the performance of "Agyekoom", Castro ran onto the stage, and together, Itz Tiffany and Castro performed "Agyekoom", the first live performance of the song since the release of the official video, under the same name. Just like "Fake London Boy", the crowd went crazy and proudly sang every word to "Agyekoom" as Castro and Itz Tiffany performed their hit song, providing a magical performance. As "Agyekoom" ended, Itz Tiffany gracefully exited the stage as part of the act, leaving Castro to take over. Castro, just like Itz Tiffany, got the crowd involved in his performance by initiating a "call and response" chant. "When I say Castro you say New York (Castro-New York-Castro- New York)..when I say Ghana you say America (Ghana – America- Ghana-America)". By 3:15 a.m the crowd, especially the women, were going crazy for Castro. Women were reaching out just to touch him and at times Castro would allow them to touch him, garnering more screams and cheers from the eager crowd. Even after being showered by dollars while on stage, Castro continued singing all his hits. When he asked the crowd at 3:25 a.m if they wanted him to leave, they all uniformly shouted ,"no", and when he asked, "are you sure?", they all shouted , "YES" and he took that cue and kept on singing, dancing, swinging his hips, and keeping the crowd engrossed in his performance. By 3:30 am, Castro was still performing strongly before he even decided to sing two of his most recent hits, "African Girls" and "Do Da Dance", two songs featuring Baby Jet (Asamoah Gyan).
After witnessing the performances of King David, Kojo Baafi, Prince Doggy Dawg, K5!, Yaa Dakwaa, Nana NYC, Tiffany, and Castro, Boogie Down Nima Productions had one more set of performers for the audience to witness: V.I.P. Vision in Progress, known as V.I.P, includes 3 members who are known by the names Promzy, Prodigal, and Lazzy. In August 2010, V.I.P came to America to perform, but one person from the group was missing. At the Ghana Summer Jam, all three members were present and the performance dynamics were incredible. Similar to their 2010 performance, Lazzy showed the crowd how to dance to their new song. In 2010, during a show in Maryland, Lazzy showed the crowd how to dance to "Away", and at the Ghana Summer Jam, Lazzy lead the way in showing the crowd how to dance to V.I.P's new hit song, "Change Position". After giving instructions, the whole crowd participated in enjoying and dancing to "Change Position" with their newly acquired knowledge. Later, a group member from F.O.I joined the stage with V.I.P to perform their song, "One More Time", and then V.I.P closed the show with their hit smash, "Away". "Away" caused the crowd to go crazy, as audience members were inching for an opportunity to touch the hands of V.I.P or sing while Promzy was allowing audience members to sing pieces of V.I.P's songs into his microphone. The intimacy of the stage setup allowed concert goers to touch and grab at the performers, causing one performer to temporarily lose his shoe due to a fans excitement. One girl in the audience looked as if she was going to faint when Prodigal threw his " I Love Ghana " hat into the crowd and she surprisingly caught it and held on to it tight, leaving other fans jealous with envy. At one point during the show, Eli Fantauzzi, the media director for Boogie Down Nima Production, was prodded by Prodigal to join Promzy and Lazzy on stage, and impressed the crowd with his Azonto dancing skills, inserting his "camera" Azonto move. As the concert wrapped up, V.I.P thanked Hashim, the CEO of Boogie Down Nima productions, the DJs,the media men, and everyone involved in making the night a success, including Phresh Boy PK and others. The Ghana Summer Jam was attended by Caucasians, Africans, Hispanics, and several other ethnic groups. The Ghana Summer Jam concert brought together a variety of Ghanaian music genres and anyone who loves music, regardless of race, enjoyed themselves thoroughly because the Ghana Summer Jam concert successfully represented Ghana music. Just like a bottle of jam on a hot summer day, the Ghana Summer Jam "spread" itself accordingly and provided a "tasty" visual and audible treat for all those who attended. The elements of the Ghana Summer Jam easily "melted" together, forming an unforgettable night.
For more information regarding Boogie Down Nima Productions and the remaining summer tour dates , please visit: Boogie Down Nima : http://www.boogiedownnima.com/