FOR THE FIRST TIME EVER ON GHANAIAN TELEVISION, 'CINE AFRIK' PREMIERES 'SINKING SANDS'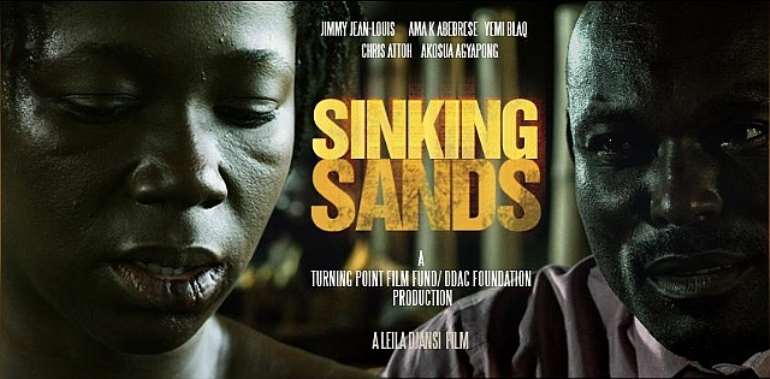 CINE AFRIK PREMIERES, the unique Movie Chatroom TV Show that screens and reviews the best of Ghana's own movies for the first time ever on TV, is at it again. This Saturday 21 April, 2012, CINE AFRIK PREMIERES will delight its viewers with the tasteful, 'Sinking Sands'.
'Sinking Sands' is a feature-length psychological drama that tells the story of a couple in a loving marriage which turns into one of violence and abuse. It tells the story of Pabi, a teacher whose once happy marriage turns into one of abuse and violence when her husband, Jimah becomes disfigured in a domestic accident. The film creates awareness on domestic violence and was shot at locations in Accra and Ho.
Sinking Sands stars Haitian actor Jimmy-Jean Louis, Ghanaian-British TV presenter and producer Ama K Abebrese and Yemi Blaq. The film has won several awards since its release, including Best West African Movie, Best Costume, Best Picture and Best Production at the 2010 Ghana Movie Awards and Best Actress at the African Movie Academy Awards (AMAA).
The screenplay was written and directed by Ghana Movie Awards and Africa Movie Academy Award-winning Director Leila Djansi.
It's an exciting weekend with Cine Afrik. Don't be left out in this rare entertainment as you also get the opportunity to interact with some of the Industry's Top Stars Live on air.
Join the Cine Afrik Premiere Chat Room this Saturday 21 April 2012 at 7pm and be part of the excitement.
The Channel Manager for Cine Afrik, Nana Yaa Serwaa Sarpong says "Delighting our viewers in every way is at the pinnacle of our agenda. I am of the hope that, the Saturday Night of viewers of Cine Afrik this weekend will be thrilling to the greatest heights".
If you're reading this story and you don't have a MultiTV Digibox, rush to get one. Alternatively, you can always be part of the new entertainment experience CINE AFRIK defines by looking out for any MultiTV setup anywhere at public places and catch up with CINE AFRIK PREMIERES every Saturday and the fresh & current line-up of great African Screenplays, everyday. All this comes to you freely and at no monthly charge.
MultiTV……….… Just thrills