Tribute: The Godwin Kotey We Know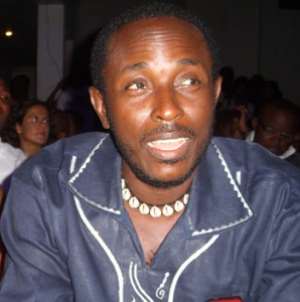 The Late Godwin Kotey
The adorable screen gentleman back in the 80s, Godwin Kotey, has promised a huge comeback with a new production, after what seems to be a long hiatus from Ghana's make-believe industry.
The movie, which would be titled 'Sodom & Gomorrah', would throw Ghana into a state of shock, as he did not only want to use the production to educate, but enliven the standard in the industry and change the latest nudity nonsense on the screens.
'Just wait for the film I am doing now. I have just one more day to shoot some of the scenes and you will see what I am talking about,' he said in an interview recently.
The last movie Godwin appeared in was Akorfa Ejeani Asiedu's 'I Sing of A Well', which earned him a nomination for Best Actor in Supporting role at the just-ended African Movie Academy Awards (AMAA).
The unique features about his upcoming movie, he said, included the usage of different local language including Huasa, Twi, Ga-Adangme, Ewe and even Pidgin English.
'Fundamentally it rolls around the president's son who is generous in giving to needy.' Despite the riches he is enjoying, he rather prefers to stay at deprived places like Sodom and Gomorrah where he meets poor friends and encouraged them.
Subsequently, he got mobbed and what transpired afterwards is what movie enthusiasts should just patiently wait for.
'The whole idea, when we started, was to make a children's movie. For me, it is to satisfy a gap in Ghana's entertainment industry, in the sense that Ghanaian entertainment industry does not cater for children. So I want to make a movie that children can go and watch.
A movie that parents can take their children to watch, and be confident that the children will go and see a movie and they won't have to close their eyes because they are seeing a lot of unnecessary nudity and a whole lot of nonsense.
My attention is to focus on children and that is exactly what I going I am to do. That is my overall objective.'
The movie, he noted, would unravel the positives of Sodom and Gomorrah, a slum in Accra, as well as some of its negatives. Godwin is not only a great name, but one of the pioneers of Ghana's film industry.
His contribution to motion pictures will never go unmentioned in the history books of the arts and entertainment industry. He started acting at an early age but went into serious acting in 1986 when he did his television production on GTV. While in secondary school, there was nothing he had wanted to do more than acting.
It was therefore not surprising that after secondary school, he went straight to the School of Performing Arts to read Theatre Arts. His first personal production was 'Police Officer 1& 2' in 1992. From there, he continued writing and directing his own movies.
Later, he did 'Smash TV' for Talal Fatal, CEO of Metro TV, directed 'Taxi Driver' for some time and then went back to school for his Masters. Currently, Godwin, married with children, is a lecturer at the School of Performing Arts, Legon.