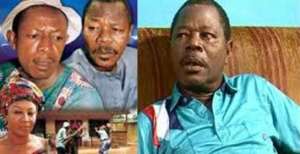 Nigerian popular actor and comedian, Sam Loco-Efe is dead. Efe was found dead in his hotel room on Orlu Road, Owerri, capital of Imo State, on Sunday August 7.
The Moment Newspaper in Nigeria reported that Imo State Commissioner of Police, Mohammed Jingiri Abubakar, confirmed the death to journalists.
The Police said the famous actor had been ill for sometime and had only come to the hotel to recuperate before continuing his entertainment business, before he suddenly died.
Abubakar said: "It is true. He died in Rapour Hotel in Owerri. We are in the process of going to mortuary now. We heard he had been sick for one week and he had just been discharged. He died last night. We will give you other details latter," the police commissioner said.
The death was also confirmed by the Actors guild of Nigeria (AGN). The Guild's president, Segun Arinze said in an interview: "Yes, it is true that Sam Loco passed away tragically in his hotel room. I will be making a statement on Monday, (August 8). I can't say much now because I want to verify the detail."
National Secretary of the AGN Chuma Onwudiwe also confirmed Efe's death, saying: "Today is indeed a very sad day in Nollywood. I can confirm that the great Sam Loco is dead."
A versatile actor and a polyglot, the late Efe spoke Igbo, Yoruba and Hausa fluently even though he hailed from Benin, Edo State in South-South geo-political zone.
Efe had performed in several movies, on stage and television for more than four decades. He was part of the Nigerian troupe at FESTAC 77, when Nigeria hosted the world in arts and culture at the National Theatre, Iganmu, Lagos.
The death of Efe marks another deplection in the ranks Nollywood family. A few months ago, one the veteran actors, Ashley Nwosu, who had been for sometime died, and about a month ago, another legendary entertainer Christy Essien-Igbokwe died.
The body of the deceased was removed and taken to the morgue of the Federal Medical Centre, Owerri, he said.