BLESS THE MIC FESTIVAL SET FOR 2ND JULY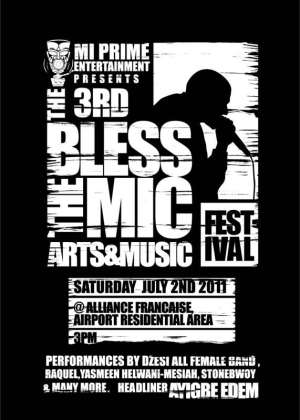 Ghana's largest entertainment event Bless The Mic returns this July to the capital city Accra for the third annual bless the mic arts and music festival.
On Saturday 2nd July Alliance Francaise will host the final day of this year's Bless The Mic Arts & Music Festival. The festival will begin at 3pm showcasing an eclectic variety of poetry, paintings, art and photo exhibition With other attractions like acrobatic display, Health Spa – stress relieve massages, facial & skin treatment hand and foot care, capoera lessons and good music provided by Dj Julz and Vision (Yfm).
From 7pm the amphitheater Stage will light up a night of electrifying modern Reggae, Spoken word, Acoustic, Highlife, Rap, R&B music from some of the best recording artists from Ghana!
As with previous editions,this year's BTM Festival will feature exciting performances from some of the most celebrated underground and mainstream acts from the local hiphop/hiplife and acoustic music scene.
The acts lined up include Dzesi all female band and many others to be announced to be revealed by organisers later.
This year's festival is set to attract about 3000 fans and guest from Ghana and the rest of the world. There will be food, drinks, art and craft Vendors available. This event is proudly organised by Mi Prime Entertainment and Alliance Francaise. And supported by Foundation For Contemporary Arts, BUZZGH, Pidgin Music, Wunmi Event, Ghanamusic.com, Deyale sports Center, Apple Pie Publications Limited,Hush Lounge and Citizen Kofi Entertainment Center.