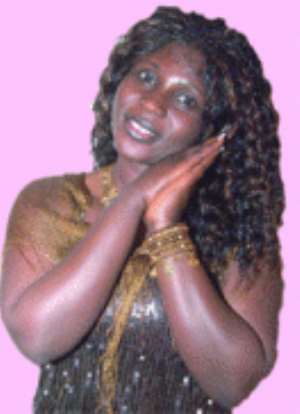 Esther Smith
is at it again with another melodious album, Maye Nhyira, coming at the end of a rocky marriage and health problems that obstructed the gospel diva from releasing a new one in the last three years.
The wonderful mother and divorcee who has been spending a greater part of her time caring for her hole-in-heart son owes her very existence to the grace of God upon her life.
"I cannot explain the depth of my joy as I recollect what I went through with my marriage and personal issues but as was the case of Daniel in the Bible, God has changed my circumstances to his glory", she told Showbiz over the phone from her base in Germany.
The new seven-track album opens with Odi Yasem Ma Yen and makes use of a cool reggae beat that brings the silky voice of Esther to bear. With cool instrumentation, this song turns out to be a wonderful piece that praises God and His ability to vindicate His people.
The title song delivered in the worship vein, Maye Nhyira, which is receiving considerable airplay is full of inspirational words and will appeal to a lot of people, particularly as the lyrics encourage people who are going through hardships to depend on God.
Reflecting on what she has been through, the songs speak volumes on the need to seek God. Esther told Showbiz that her resolve to seek God in every decision she took and to wait upon Him, had brought her this far.
"During my moments of tribulation, some of my friends lost hope in me and even doubted my ability to release a fresh album. I told myself that in whatever I did, God's will should be done in my life because I could not depend on my own strength".
Maye Nhyira, Odi Yasem Ma Yen, Onyame Ye Nyame, Ma Wo Pe Nye Ho and Wo Ye Kese have Esther as the lead singer backed by Morris and produced by Morris at the Oravero Studios, while Oguama Bi and the second version of Wope Nye Ho was backed by Emma and Esther and produced by Emma at Nana Tuffour Studios.
Most of the songs are programmed and mixed by Morris who has assisted in the production of some previous works of Esther.
Currently, Esther is busy with preparations for the album launch in Europe and hopes to launch it here in Ghana early next year.
Born at Suame in Kumasi in the early 70's, Esther's music journey began when she joined the Tesano Methodist church choir at the age of 14. She later joined the House of Faith Ministry in 1990 and later became a member of the church choir, Voices of Faith.
She again joined a singing group set up by Kapital Radio, a private radio station in Kumasi and started writing her songs in the early 1990s.
Notwithstanding the difficulties she went through in her quest to release her maiden album, Gye No Di, Esther made a breakthrough when she had support from Ankobea Music Production.
Her Gye No Di track, the title song of her maiden album took three awards at the 2003 Ghana Music Awards (GMA) — Gospel Album of the Year, Gospel Artiste of the Year and Best Female Vocal Performance of the Year.
After this achievement, Esther did not relent in her efforts but kept up the pace and reaffirmed her superiority in gospel music by clinching the Best Gospel Album of the Year, Best Song of the Year and the Best Album of the year at the 2004 GMA with Nipa She is the director of the Printing Press and Music Production in Kumasi. Share Your Thoughts on this article Name Email Location Comments Graphic Ghana may edit your comments and not all comments will be published