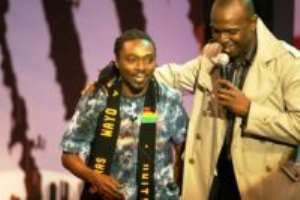 The first eviction show of M-Net's BIG BROTHER REVOLUTION (Sunday 13 September, live at 19:00 CAT ) delivered what audiences had been waiting for, for 7 days – women in the house!
Bad news for Kenya 's Teddy and Ghana 's Wayoe, though – they won't spend any time with the 12 newly-arrived ladies as they were the first 2 housemates to be evicted from BIG BROTHER REVOLUTION after receiving the fewest votes from Africa this week.
Big Brother – never short on surprises – laid on quite a few this week…
When the female housemates entered the house, they had no idea that they wouldn't be joining the guys immediately. The guys don't know that the female housemates have entered the house as they are sequestered in a separate section of their own, with a partition separating them from the guys.
And…the female housemates don't know when they'll join the guys in the house, but can watch the guys on a TV screen in their lounge area.
To top it all, IK revealed at the end of the show – to viewers, not housemates – that the partition between the 2 sections of the house will be broken down next week, allowing male and female housemates to meet for the first time.
That was Sunday's action-packed show which began with IK welcoming the continent to the Revolution before a high-energy performance by hip-hop star HHP set the tone for the night.  Viewers were then taken on a review of the past week in the house before IK answered to the housemates' burning question – who'd be the first to leave?
After letting the tension build, IK broke the news –Teddy would be the first to leave. With just 30 seconds to say his goodbyes, there was just enough time for a few pats on the back before he headed out to join IK on stage.
"Did you see it coming?" asked IK. "No – but I guess my beef with Kaone may have had something to do with it," answered Teddy. He pledged his allegiance to his alliance partners before leaving the stage – proving that the alliances in the house are more than just talk!
With the housemates coming to terms with the first elimination of BIG BROTHER REVOLUTION, IK delivered another surprise when he took viewers back into the house and told the housemates that a second person would be leaving this week. Shocked into silence, the housemates could only wait wordlessly until IK announced the name of the second evictee – Wayoe.
"I saw it coming," said Wayoe once he had joined IK on stage. In true Wayoe style, he signed off by shouting "African unity is a must!" before joining Teddy on the side of the stage.
With that, it was time to bring out the female housemates – but not before IK gave viewers a sneak peek into the ladies' living quarters. The big surprise for viewers – and what the ladies only discovered when they entered the house - was that the women would be living apart from the guys for the time being.
They have a big jacuzzi, stylish dining area and a living space which IK described as "beautiful, gentle and calm – a palace fit for queens!"
Angola's Emma was the first housemate to take to the stage in the studio.
She wouldn't tell IK why she thought she would win, warning viewers that they would just have to watch. She said that good people bring out the best in her and she hates people who think they are better than others.
Nigerian Nkenna was up next – telling viewers that they should watch her simply because "I'm an entertaining person!"
Maggie from Zambia was up third onto the stage, telling IK that she was feeling overwhelmed and that the rules allowing conspiracy suited her because a desire to bond with everyone is part of her personality.
Before the three ladies took their first steps into the house, IK revealed that the women will be able to watch the guys. They have a flat screen TV in their quarters which will allow them to watch what the guys get up to.
Then it was time to introduce the next three BIG BROTHER REVOLUTION housemates to the continent.  The 4 th female housemate revealed was Malawi 's Mzamo, who promised to be herself (in the wake of countrywoman Hazel's performance in Big Brother Africa 3 ) and telling viewers that it takes a lot to make her lose her cool.
Fifth on stage with IK was Jen (Mozambique), who really turned up the heat. She wouldn't commit to how much interaction she would have with the guys and told the continent that she hated liars – but also promised some conspiracy "because we all need a little conspiracy!"
Next up was Namibia's Rene. When IK asked her why viewers will be voting to keep her in the house, she simply replied "I'm freakin' fabulous!" When asked if she would be taking advantage of the new rules allowing conspiracy between housemates she told the continent she would never kiss and tell…
After Mzamo, Jen and Rene joined Emma, Nkenna and Maggie in the house and HHP had delivered a high-energy rendition of Music and Lights , it was time to meet the next three female housemates.
 
Elizabeth from Tanzania, next up, told Africa "I'm gonna be myself, to the 91 st day!"
Zimbabwean Kristal - the 8 th female housemate to join IK on stage before entering the house – assured him that her best attribute was "just being myself – I don't act for anyone." When IK asked if she would be conspiring in the house to get ahead she replied "sure, people are conspiring already – I plan to conspire and I'll win by any means necessary!"
Liz from South Africa proclaimed that her strategy would be "fabulosity, all the way!" and said viewers would keep voting for her because they'd love her straightforward nature – "I'll be keeping it South African" was her parting shot.
As they entered the house to meet their new housemates for the next 84 days, it was time for Africa to meet the final 3.
Geraldine from Nigeria said that her strategy was to have no strategy. "I'm just going to be myself and have fun," she told IK. When he asked if she would be looking to get into any relationships inside the house she firmly said "No – I have a boyfriend and I love him very much!"
Angola's Edna was introduced next and looks set to bring something different to the Revolution as she told IK that she wasn't expecting to win, but was there just to have fun. "What kind of fun?" asked IK. "Every kind of fun – relationships, conspiracy, it doesn't matter," replied the relaxed Angolan.
Paloma from Zambia was the final female housemate to join IK on stage. She promised to be simple and straightforward and be a "proper Zambian lady with proper culture". When IK asked the inevitable question about conspiracy, she said "Alliances are very important – I can't say that I'm not going to do it, I can't say that I am going to do it, let's wait and see".
As the final 3 women entered the house, IK brought Teddy and Wayoe back on stage to ask them what they thought of the female housemates. Wayoe said he wasn't disappointed to be missing out on meeting the ladies while Teddy said he wasn't bothered as he was missing his girlfriend at home and would be seeing her soon.
Viewers then saw footage of the female housemates being told last week that they wouldn't be entering the house as planned. Shock and surprise reigned as they were forced to make peace with the fact that they would have to wait another week before entering the house.
Having now made their entrance, the female housemates will have to wait a week to meet the guys. Ending the show, IK told Africa that the wall dividing the 2 sections of the house and keeping the male and female housemates separate would come down next week!
Big Brother Revolution is screened live, 24/7 on DStv Channel 198 or 199. Watch edited BB highlights programs on M-Net (DStv channel 101/102) and AfricaMagic (DStv channel 114). Viewers can also stay up-to-date with by logging on to www.mnetafrica.com/bigbrother http://www.mnetafrica.com/bigbrother .