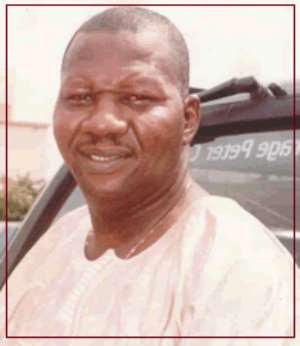 Alhaji King Babatunde Ayinla Nurudeen Olasunkanmi Omidina
ADDRESS - Igbogbo, ikorodu, Lagos State.
DATE OF BIRTH: August 22 1958.
MARITAL STATUS: Married
STATE OF ORIGIN: Igbogbo, Ikorodu, Lagos state
LANGUAGES SPOKEN: Yoruba, English and Pigeon English
EDUCATIONAL BACKGROUND -
i) Edul bliding memorial primary school
ii) Jamaitul Islamial Primary school, Lagos.
iii) Children boarding school, Osogbo.
iv) Adekanbi commercial high school, mile 12, Lagos.
v) Ifeoluwa grammar school, Osogbo.
Tell us a little about your childhood, growing up, parents, brothers and sisters?
I was born in Inabere street, in Lagos Island and equally grew up there as well. I was born to Alhaji (mr) and Alhaja(mrs) Omidina. My younger brothers are; Alhaji Taofeek Omidina, Mr Samson Ademoriyo, Mr Adegboyega Omidina, Omowunmi Ademoriyo, Adeola Omidina, Sikiru Omidina
What was the first paying job ever that you had? - Tailor, carpenter, clerk, foot soldier, etc.?
Lens (glasses) cutter and producer
How much were you paid per month and what were the responsibilities?
One hundred naira (#100). I do sell, cut and repair frames and eye glasses.
What other jobs did you do outside Acting?
None
What made you go into the Acting career and when did you start acting (year)?
Inspiration, or i simply say it is a call from God. it all started in 1972 and matured into professional acting in 1978.
Who were your Idols/Models (Actors) in those days?
Ojo Ladipo a.k.a. baba mero.
What was your first role in Theatre, TV or Movies?
A series (weekly comedy broadcast) titled ERIN – KEKE
What was your major break-through role and in what film, series or play?
Omolasan, a movie produced by obalende. The role I played was so comical that it made a lot of people love me. Also, Iru Esin by Olaiya. They both gave me the much needed stardom because they both storm the market and were popular then.
What were the constraints you had to face and overcome as an up-and-coming Actor (young actor)?
I overcame financial constraint and tough competition from peers in the industry then.
How many films have you been involved with as an Actor to date?
I can't be too sure, but let's put it at one thousand eight hundred movies.
e.g. i) Ba o ku
ii) Oju Oloju
iii) Baba Londoner
iv) ko tan si be
v) Aso Ibora
vi) Obelomo.
As a DYNAMIC, OUTSTANDING, 'A'-List Actor, how have you managed to adapt to the different range of roles you have played in your career?
Everyone knows that I am genius (laughs) and whatever role I choose to play, I always excel in the character.
What is the most awkward or strangest role you have had to take/play in your career and why?
No role is strange to me. Bing a comedian is the most difficult role to play because you always have to make people laugh and have them remember that scene. My playing a doctor, lawyer or any other serious role will come naturally. Playing the president of America or Nigeria for four years will not be strange to me atall.
What film have you been most proud to be involved with so far, and why?
I just can't pick out one because there have been so many. Let's just say all of them.
As an 'A'-List Actor yourself, what other 'A'-List Actors or Actresses have worked or collaborated with?
Gbenga Adewusi, Adebayo Salami, Yinka Quadri, Jide kosoko, Sola Sobowale, Toyin Adegbola, Monsurat Omidina, e.t.c
Did you at anytime want to quit your Acting career for something else or for a reason, and why (if any)?
Yes, I had wanted to quit and this was due to lack of financial income. I had to feed myself and the family. Moreover, Acting wasn't gainful then.
What is the motivation for you or what keeps you interested in this career every morning you wake up?
I am addicted to the work. Compared to years back, it now has money, fame, virtue and glory attached to it. In Nigeria today, it is a respectable profession for you child to be in the acting or movie business.
How important are our Nigerian roots, morals, values, knowledge and sense of wisdom to you and your works?
They are the basis of our messages in films. It reflects in our mode of dressing, dialogue and mannerism.
On the stories, scripts, or screen play of your films, and its impact on the Nigerian/African cultural values (home and abroad), how do you manage to harness, keep and pass them across in your films?
We lift them to most of our story lines and it is obvious in our dialogues, and by so doing we use it to educate and correct where possible.
As a Producer, Director and filmmaker also, how is this different for you from Acting and what is the additional drive for you?
It's just an increased responsibility when you are the director or producer. You have to be able to get great performances from your cast through your ability. The additional drive is the result from hard work and discipline.
What projects are you working on at the moment and with whom?
The film is titled Omo - Ole, and it's from my production unit.
Where do you see yourself in this career in the next five years?
God willingly, at an admirable height of international repute and reckoning.
Where do you see the Nigerian movies industry in the next couple of years?
I foresee international standard in the next couple of years. We are growing at an impressive pace daily.
When you are not working (Acting, producing, directing or making a film), what do you do or how do you pass the time?
I spend time with my family and friends, especially because I am away quite often on location.
What are you hobbies and interests?
I cool off listening to music and counselling people.
What kind of music do you listen to and who is your favourite musician?
Reggae music - Bob Marley, Yellowman and classic Steve Wonder
Is there an International Actor (American, British, Australian, African, etc.) you will want to work with if the opportunity presented itself?
Eddie Murphy and Mr Bean
What message do you have for your international fans in America, United Kingdom, Europe, Africa and its Diaspora?
Nigerians, please be more patriotic and keep the flag flying. Their love for me should never seize and their continued support by purchasing our films should continue. With this project by Naijacommunity.com, I am sure that they will bring back the good times to Nigeria and surpass our expectation of making Nigeria the Great country it is.
For any reason at all, how would you personally want your fans to remember you?
That I was dedicated, hardworking, put in my very best, and brought lots of laughter into their homes.