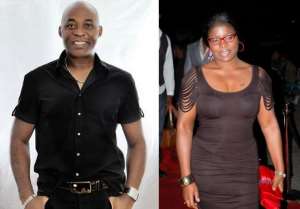 Nigerian celebrity publicist, Egor Efiok has vehemently reacted to news making the rounds that veteran actor, Richard Mofe Damijo, better known as RMD, is sick.
Recall that on Tuesday, Nollywoodgists.com posted pictures of the actor at the Tribute Night held in honour of late Amaka Igwe, which was held in Lagos, and it was confirmed to us that the actor is hale and hearty. Read it HERE.
In her reaction posted on Facebook on Wednesday, the E4 PR boss slammed some journalists who went as far as quoting a 'Stella Damascus' as their source of the story.
Below is her Facebook post;

Honestly, I am now convinced that junk journalism in Nigeria is becoming quite 'fashionable'. How else can one explain how a false story about RMD went viral just like that and nothing has been done to put these cowboys where they belong?
Someone thought it would be funny to put out a doctored photo of RMD to make him appear ill and not satisfied with doing that, some other nincompoops have been spreading more false rumours alleging terminal illness.
One mumu called Emmanuel whose number I have saved as "Emma Junk Journalist" has been spreading false rumours that Stella Damasus confirmed that RMD has a terminal illness. Most annoyingly, any literate person that sees that post supposedly written by Stella, can tell that it is a fake account. What stands out most is the surname, "DAMASCUS" and we all know that Stella's surname is Damasus.
It is only semi-literate 'journalists' that keep misspelling her surname. The types that don't know the difference between past and present tenses and write sentences like "something FISHING is going on". Fishing?
Okay, back to the matter being discussed. When I saw Emma Junk Journalist's broadcast on WhatsApp, I alerted him to his obvious blunder and the evil meanie has still refused to take down the story from his blog. It's obvious as well that he has done this on purpose, because he spelt Stella's surname rightly on the post title, but posted the message from the fake STELLA DAMASCUS Facebook account as 'proof' of his false story.
This is deliberate slander, so please tell me why people like these should be allowed to operate. I can now understand why () Magazine sacked you Mr Emmanuel (aka Emma Junk Journalist). I weep for our well respected credible journalists like the Shaibu Husseinis and the Victor Akandes.
Please don't allow these cowboys give your hard earned craft a bad name. When will this "pull me down syndrome" end? Finally, in the interests of those that keep asking if RMD is sick, please quote me anywhere when I say that he's very fit and healthy and looks NOTHING like those images being circulated.
When you meet him in person, you can tell that he keeps fit and watches what he eats. Although he is very busy as a commissioner, RMD is an actor first and will not shy away from public functions supporting his craft.
He should be commended for this and for being able to keep his weight healthy when many people his age have pot bellies. Please leave our original Nollywood hunk alone and stop spreading false rumours about him. RMD is NOT SICK. Thank you.
Shaibu, while commenting on the above post, wrote, "Thank you world publicist for standing up to this. I was taken aback when I saw the piece on social media and like you said "bros' confirmed that he is well but just that he is on a very strict diet routine and I think we should respect his views.
"I still saw him during the week and bros Richard Evans Damijo is very well. Hopefully I will see him at Amaka's interment on Friday in Imo and would extract an interview from him on the matter. But bros is fine."