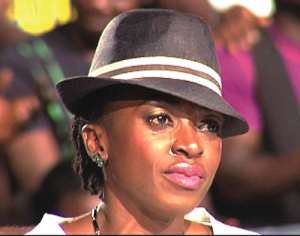 Nollywood actress, kate Henshaw, last Thursday, was disgusted by a man at the airport, while she was waiting for her flight to be called. The actress expressed her disbelief as the man beside her was eating with his mouth opened and he gulped his drink and then belched out loudly.
She was more irritated when he sticked his finger in his mouth and brought out a piece of chicken that was stuck in his teeth and he flicked it on the floor right beside her.
The actress said she knew it was time to relocate her glass of water before he flicks it inside. She however was so disgusted and said 'some people are so crude'.
When her flight was called, she quickly stood up and watched her back to see whether he wasn't going to board the same flight with her. She said she would rather stay near the loo than to sit another hour with him. Many people have this experience at the airport and it is often embarrassing. do you have such experience too? share your thoughts.
Click the link below to go to...
Doris Simeon, Daniel Ademinokan May Dissolve Marriage In Court Soon
Why Uche Jumbo Slept In Police Detention**Allegedly Tells Police
[VIDEO] Sexy Artiste, Tiwa Savage Writes Song For Grammy Award Winner, Monica
REVEALED!!!!! DAVIDO'S BEAUTIFUL GHANAIAN (MIXED RACE) GIRLFRIEND, NASH KARDS