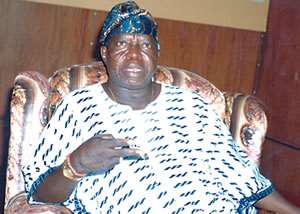 In February 2014, the four-year power tussle in the leadership of the Association of Nigerian Theatre Arts Practitioners (ANTP) between Dele Odule and Victor Ashaolu was settled by a court judgement, which favoured the latter. This did not go down well with the former, who later went to form another association along with some other veteran actors in the Yoruba sector of the Nigerian film industry.
The likes of Jide Kosoko and Adebayo Salami, also known as Oga Bello, both former presidents of ANTP, formed the Theatre Arts and Movie Practitioners Association of Nigeria (TAMPAN). Popular actors such as Bolaji Amusan (Mr Latin), Yemi Solade, Saidi Balogun, Yinka Quadri, Peju Ogunmola, Taiwo Hassan (Ogogo), and many others pitched tent with the new group.
Some days ago, Nollywoodgists.com had a brief chat with Lere Paimo, also known as Eda Onile Ola, who is a veteran actor in the Yoruba movie industry. In his assertion, the iconic actor disclosed that TAMPAN can be likened to the Biblical prodigal son, who left his father to sojourn in a foreign land, but later returned to beg his father after he realized his mistakes.
"TAMPAN is still our child," Lere Paimo asserted, "they will still come back because the problem that caused their breakaway from ANTP is a family issue. When a child fights his father and moves out of his house, does it mean he is no more his dad's child?," the actor queried.
"We (ANTP) will take them (TAMPAN) back when the return to apologise for their wrongdoing. You remember the story of the prodigal son in the Bible," Lere Paimo told Nollywoodgists.com. He urged members of the group to retrace their steps in order not to bring anger on themselves because "Hubert Ogunde would not be happy that the group (ANTP) he laboured to establish has been disassembled by those who should know better. ANTP is the body set up by our fathers in the Yoruba movie industry."
Click the link below to go to...
Pictures – Nollywood Actor Enebeli Elebuwa's Burial
Namadi Sambo's Aide Marries Nkiru Sylvanus As Second Wife?
Husband Snatching is Your Trade – Stella Dimokokorkus Fires Back at Nuella
Don Jazzy Makes Peace With 'Assaulted' Princewill Ojukwu
I'm Confused In Picking A Wife--Pawpaw
Comedian Okey Bakassi's Letter To God
PHOTONEWS: Wizkid and Friends Performing At African Shrine