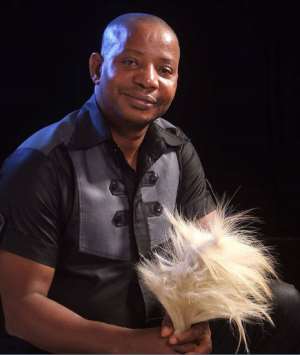 In 1998 he came to a high profile event in my Amaigbo village, he took his performance to a leap that the high and mighty, the low and lowly were erupting and rolling in laughter I have not seen my serene community put in such happy mood by a performer and so I become curious to know this Jolly Good Fellow.
The State Council for Arts and Cultural is located inside the state municipality, at the reserved Ikenegbu layout. The institution is establishing for the preservation, sustenance promotion of Igbo (Imo) arts and cultural heritage is the home of Imo artistes and the office of my favorite artiste. He meets me at the arts complex entrance gate on request from the security man on duty, and took me to a nearby snacks bar (known as Sumo) and bought us drinks and snacks, my host is Ugo Stevenson. We had a brief chat as he excused me to join a drama production rehearsal that was in progress inside the council studio.
It was this formal encounter with the multi-talented artiste that influences my choice of Theatre Arts as a discipline which later studied at the University of Port Harcourt.
Today March 10, is the birthday of Ugo Stevenson, performing artiste, playwright, theatre director/administrator, culture activist and Humanist, this is my humble personal description of a man I truly can't define his potentials. Ugo Stevenson is an enigma who does not celebrate his achievements, but rather that of others. To him there is yet service to render with this breath of life.
Born into the respected Okereafor family of Olokwu Emeabiam, Ugo Stevenson is a rebellious artiste whose father desired he studied engineering, driven by the artistic spirit and vision Ugo Stevenson has continued to re-engineer the entertainment, arts and culture industry in Nigeria, paying great attention to the improvement of the arts sector in Imo state his base. As the Entertainment Manager of Rosy Arts the only Theatre structure in the southeast, he welcomed the arrival of the Association of Nigerian Theatre Arts Practitioners (NANTAP) into the state, a family of professional Theatre Arts graduates, he performed the theme song of the association first successful stage production "Who Is Afraid of Solarin, a Professor Femi Osofian play text artistically by Kalu Okpi in 1991.
At Imo State Council for Arts and Culture, he was the performing arts department poster boy which endeared him to Col,T.K Zubairu. Ugo Stevenson is the only artiste that promotes his competitors. He contributed as an Entertainment Columnist with the,Oni Egbunine Horn Newspaper, Nnamdi Olebara's led The People Newspaper and was to become Nigeria Newspoint Newspaper Showbiz Editor. His scattering criticisms of Fame Magazine pet project the Fame Music Awards drove the publishers into appointing him their Southeast correspondent.
How do one describe Ugo Stevenson the restless spirit, who upturned the Nigeria Highlife music culture in 2004 with the album Ndaa Chineke, the creative masterpiece which honored him with the Nigeria Music Awards Best Highlife Artiste (NMA 2008) plaque after the likes of Chief Stephen Osita Osadabe,and Chief Dr Oliver De Coque. His master crafted manuscript "The Pride of the Living" made it into the Association of Nigeria Authors national literary prize shortlist in playwriting in 2009.
I have tried to find out what drives Ugo Stevenson artistic passion in the face of the glaring location challenges but he lives by the slogan "Refused to die".
In 2006 he invited me, Frank Awujo and Austin Uzoegbu to organize the first Theatre Talent Hunt Concert, a charity project that produced the star comedian Bannna Mouth and many others. He founded the Imo State Based Artistes Forum to celebrate and enhance the welfare of artist in the state, Chief Jude Ajaero (Heartland FM) Chigozie Iroanya (Engr Bruno) and the late Raymond Ayuba are among the beneficiaries.
In the last two years Ugo Stevenson has put up the CAPLEG (celebrating art patrons and legends) and CAPA (celebrating art patrons and ambassadors) events to honor outstanding art practitioners in Imo State. The proprietor of Ogbakoro Theatre Company and leader of the Ojezigi band is on constant performance tour is an artiste with an enduring passion and the spirit of service.
Ugo Stevenson is the Chairman, National Association of Nigeria Theatre Arts Practitioners (NANTAP) Public Relations officer of the Performing Musicians Employers Association of Nigeria (PMAN) Secretary General, Actors Guild of Nigeria (AGN). The founder and Chief Production Officer of the All Igbo Music Awards (also known as the EKWE AWARDS), instituted to celebrate and honor Igbo originated music performers and practitioners, which was hosted by Ebonyi State last December.
Appreciating Ugo Stevenson is like licking the honey without asking for the bee, it has not been an easy artistic road for the University of Port Harcourt trained Theatre Artiste, whose alma mater Comprehensive Secondary School Egbu, Technical Unit prepared to be an engineer. To Ugo Stevenson, performing art is a calling, service to humanity is a responsibility, development and sustenance of Igbo arts and culture is a cross that must be carried. Ugo Stevenson is a special human breed; I remember his activities as member of the Student Representative Council (SRC) and publisher of the provoking template the ALUTA VOICE at the University of Port Harcourt. I recently, I saw the rebirth of that activist tamed spirit overpowered by music, comedy and mastering of ceremonies activities come alive in an article with the captioned "Okorocha: Imo Artiste As Never Do Wells? You can mock the artiste, but don't tell him to stop, this is his motto.
I will conclude this celebration tribute on one of Africa's art finniest with the call on the state and federal government to maximize Ugo Stevenson creative and administrative qualities in the arts sector.
Ndaa Chineke, how old are you self? And he replied me,"I wIll ask my mother".Onyekem do accept this public toast as you celebrate yet another glorious artistic year. Be patient, he who waters others must surely be watered. Happy birthday,Oke Mmadu.
Kastina Nwanguma, a journalist writes from Owerri.