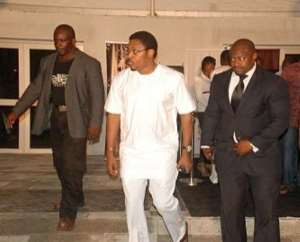 It can never be said enough that the very handsome Group Executive Director of Globacom Ltd,Paddy Adenuga is a chip-off-the-old-block.
Paddy loves to work and work.So,he works and he works.With eyes for details and a stickler for rules,he marshals out instructions to his lieutenants in the day-to-day operation of the Globacom Group,ensuring that the company remains in the forefront of the telecommunications revolution,as it builds Africa's most advanced network.
He is so much in love with his job of developing and implementing strategic plans for the company in an effective and time-efficient manner.
Paddy,it was,who made the first presentation of Globacom to Nigerians and indeed,the world when it famously rolled out its network with the innovative per-second billing platform in 2003.Therefore,he has an enormous responsibility as the GED of Globacom and he is loving it.
However,there is something else Paddy also loves but of course not with the same ferocity with which he loves running Globacom.
Paddy loves car.His choice of wonders on wheels is legendary with a preference for fast cars.
He has owned a collections of some of the most exotics cars around.Be it Porsche,Mercedes Benz,BMW or even Toyota,he sure got taste.
Talk about the 4matics,the coupes,the convertibles and much more,he picks the uncommon models with a dose of wow-factor.
Do not imagine that those cars may even readily available in the market as some of them are for him alone or simply put,customized to his taste.
One of his latest, Mercedes Benz G-Class is in a call by itself.
Little wonder he loves driving himself.