'I Need To Be Closer To You' – Goodluck Jonathan Tells Entertainers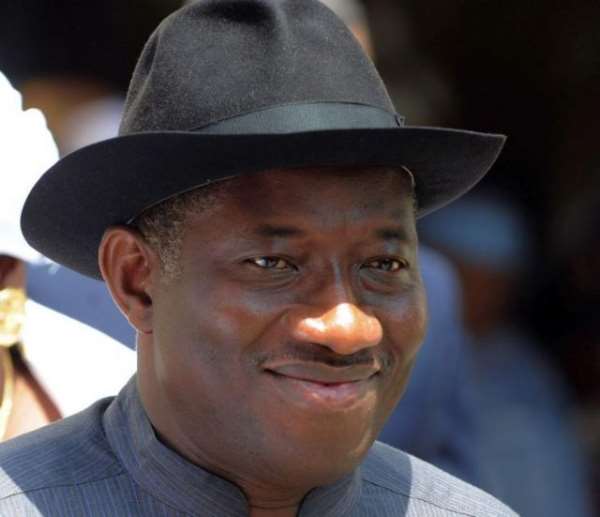 In what looked like a show of shame, the entire arts community including the best of Nollywood stars threw caution to the wind on Monday, 21 March 2011 at Goodluck Jonathan's presidential dinner with entertainment practitioners held in Lagos at the Eko hotel and Suites as they, shockingly, jostled to receive at least one carton of Jonathan's branded biscuit and T-shirts.
Sculptors, movie producers, actors, authors, TV personalities, sports men, musicians among other creative artists all converged in high volumes as their representatives took turns on the podium to state their demands to the President whose table was surrounded by Senator Ita Giwa, Silverbird TV boss Ben Murray Bruce, Onyeka Onwenu and a few others.
With just two minutes accorded to each speaker TV presenter Mo' Abudu challenged Goodluck, who's seeking election to return to office under the umbrella of the People's Democratic Party, on the sorry state of the Nigerian Television Authority (NTA), which she said is supposed to be a national pride and the one other TV stations should look up to as against what it is now.
'What do we do about NTA? Mr. President can we make it work? All the station does is sell airtime; no programmes, nothing', Abudu, an independent producer pointed.
Others like producer Amaka Igwe and comedian Ali Baba stressed that piracy is the major problem that is milking entertainers' sweat, suggesting that a special anti-pirate squad should be formed within the Nigerian Police Force and equipped with necessary tools to enhance their effective delivery.
However, amid the cheer and merriment, it did not come as a surprise when Mr. Jonathan reiterated his basket of promises to Nigerian entertainers in his address, adding that he should have been closer to the industry before this time.
It's not news that politicians come closer and get reasonable with the peoples' demands only when election time is in sight. But Mr. President told them; 'I'm not interacting with you because I need your votes'.
'Entertainment is an area we don't take serious, but it's a key sector the Nigerian Government should look into. I need to be closer to you'.
Big Brother Africa host, IK Osakioduwa did a good job as the MC of the event as he pleaded decorum from the actors who almost strangled ushers sharing the 'Goodluck Biscuits' and souvenirs.
Disdain was apparent in the eyes of top-shot celebrities present (the likes of Genevieve Nnaji, Stephaine Okereke, D'banj, Ramsey Naoh, Olu Jacobs, Kanu Nwankwo, Jay Jay Okocha and a very few others) on seeing their colleagues guard cartons of biscuit and Jonathan's branded T shirt under their arms with their last breathe as they exited the hall.
'Oh my God, I can't believe this. Do this people know its biscuit inside that carton? This is a shame', an A-list comedian tells us