OPINION: The N30M Soap Opera: Mercy Johnsons and Prince Odianosen Okojie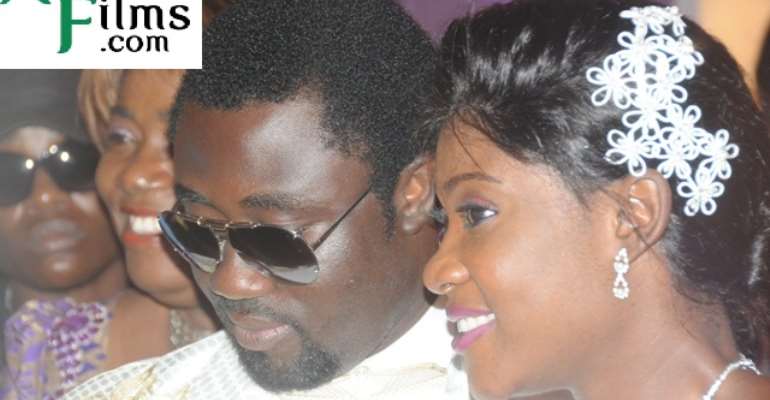 After exchanging vows at Christ Embassy on Saturday August 27, 2011, Mercy and Odi prepare to seal it with a kiss
Whatever has a beginning must have an end, at least so has life taught us. Of all the 'big-budget' movies ever shot in Nigeria – as professed by the producers, none would beat the 'Triumph of Love' tale that Princess Mercy and Prince Odi have told and shown us. It has the full features of a tele-novella with a special Nigerian adaptation providing the Nollywood flavour. You know how the love story goes:
Boy meets girl. They fall in love. Opposition arises. They squash it shaming some people. They get married. And they live happily ever after. In this case, famous 'ordinary' girl meets 'rich' Prince (not necessarily handsome). They get engaged in 2009. All seems well and quiet. No attempted 'husband-snatching' from girl's colleagues neither rumours of unfaithfulness among two. First rumoured wedding date fails and when the new dates come close two years later, the intrigues begin. A Lovely from Canada shows up in the media alleging marriage to same Prince with two kids as fruit. And then the love-birds begin their first major challenge together in full glare of the public, majority who kept (and perhaps still keep) vigil on the internet.
From denial, to partial acceptance, full admission, a file for annulment, purported divorce, counter divorce claims, demonstration threat by a women group, even last minute church withdrawal; the media provided almost daily updates of the royal wedding being planned. The characteristic Nigerian 'spiritual consultation' convinces the bride-to-be of her 'destiny ties' with Prince odi, hence the resolve to go ahead with wedding. Lovely – Edo, concedes her husband (or ex) to Mercy – Kogi, and do they all live happily ever after? Great Nigerian block busters like Ije, Figurine, Anchor Baby, Mirror Boy, Black Gold are movies not known to have Part Twos. Will 'Triumph of Love' follow the trend of these recent movies? Or will it go the Tade Ogidan way of 'Diamond Ring' 1 and 2 or even MainFrame's "T'oluwa Nile" 1, 2, 3 prduction?
Veteran thespians and skilled play writers will tell you that for a play to end all conflicts played up must be resolved. Has that happened in this Royal rumble? Prince Odi is said to have presented a Divorce certificate to Christ Embassy, few days to August 27 – the wedding date. The church had earlier declined joining the new lovers based on wife Lovely's petition and most especially, the supporting documents she presented. But determined to marry his new bride, Odi 'secures' and 'presents' a divorce certificate to the church authorities. The day following, (ex) wife Lovely, who is resident in Canada, denies having signed or sighted any divorce paper and is said to be considering legal actions against her (ex) spouse and the church. Hence, the legality and duration of Princess Mercy's marriage is still under threat even after the 'successful' superlative wedding.
Other than the two Stretch Limos and Bentley used, the two horse-men who led the automobile convoy to the reception venue, and the remarkable presence of A-list showbiz stars, the royal wedding could have passed for any other regular wedding. The touted N30M budget wedding was lost in the 2-day ceremony. From location, to security, music at the reception, the bridesmaids' dresses, organisation and timeliness, quality of other guests, the wedding scored low. Even the newly-weds remained 'understandably' tense until the marriage certificate was presented. Mercy could have been a lot more joyous on her big day had Odi done the right things at the right time. Hopefully the memories of Honeymoon and year(s) after will erase the scandalous memories…
click the link below to go to...
MORE PICTURES FROM MERCY JOHNSON'S WEDDING.
EXCLUSIVE PICTURES: AT LAST! PRINCE ODIANOSEN EXCHANGED MARITAL VOWS WITH MERCY JOHNSON AT CHRIST EMBASSY.
STAR ACTRESS MERCY JOHNSON'S TRADITIONAL WEDDING PICTURES.
PRINCE ODIANOSEN,ESTRANGED WIFE,LOVELY OKOGIE FINALLY LOST THE BATTLE TO MERCY JOHNSON.
NO EVIL HANDS OR THOUGHT AGAINST MERCY CAN WORK.MERCY JOHNSON'S MOTHER.
LOVELY OKOJIE REACTS TO PRINCE ODI'S INTERVIEW,HE IS A BIG LIAR.
EXCLUSIVE! MERCY JOHNSON WEDDING PLANS SUFFERS SET BACK AS PRINCE ODIANOSEN'S WIFE SHOWS UP WITH KIDS.
MERCY JOHNSON IN DISTRESS,RAN TO MOUNTAIN OF FIRE MINISTRIES TO SEEK FOR DIVINE INTERVENTION.
WEDDING: MERCY JOHNSON PICKS AUGUST DATE AND DETAILS OF THE SUPERLATIVE WEDDING.
EXCLUSIVE;GAMEOVER FOR MERCY JOHNSON AS FIANCE'S WIFE CAME UP WITH MARRIAGE CERTIFICATE.
E-X-C-L-U-S-I-V-E Interview: The Certificate I Signed Was For Our Child's Welfare'-Mercy Johnson's Hubby Said At Last.