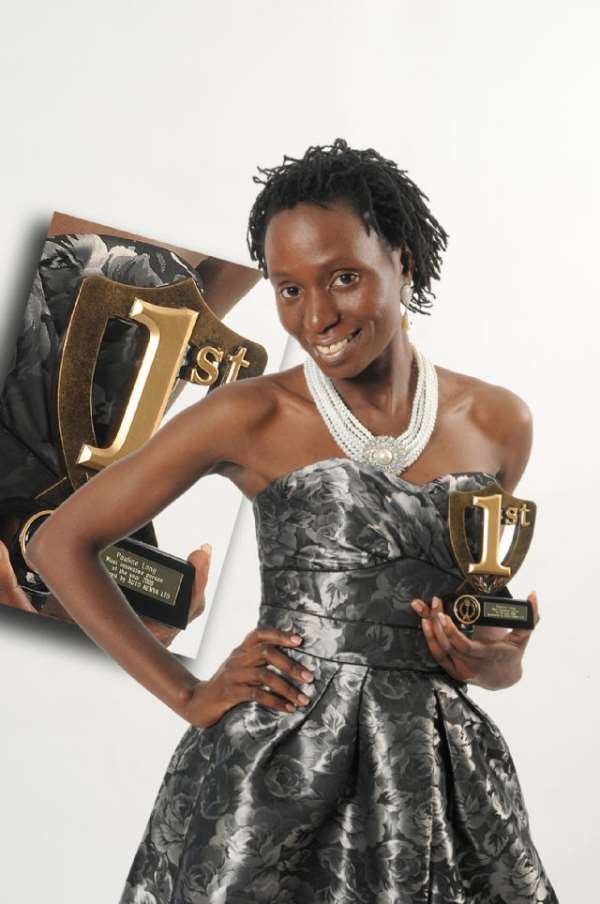 When Pauline Long set out to establish Miss East Africa UK in 2006 and Mr East Africa UK in 2008 the last thing she expected was to win two awards in the same year. The mother of two was named Most Innovative Kenyan in the UK at the UK Kenyan Achievers Awards held on 18th April at the luxurious Holiday Inn, Bloomsbury London. The award was presented to Pauline Long by Labour Councillor Marianne Alapini in the presence of a huge crowd consisting of Kenyans from different parts of the UK, the Deputy Kenya High Commissioner Mr Chebukaka and Kenyan government officials. "To be nominated was a great honour but to win this prestigious award is a complete blessing. I'm inspired to do more for the African children with clarity and integrity but I would like more Africans to take full responsibility of our problems in the continent", said Pauline Long while giving the acceptance speech.
The second award was presented to the warm hearted entrepreneur by Ms. Diana Curry OBE at the 3rd Annual African Achievers Awards in Bradford, UK on 16th of May where she picked Entrepreneurship/Innovation Award for her contribution to good causes in Africa. "Winning two awards in one year for something I'm passionate about is fantastic, I hope these awards will help raise the profiles for East African children's charities so that they can benefit from the campaigns we do", she disclosed.
Pauline Long who is also a writer for Afro News admits after having her first child she developed a burning desire to bring a heartfelt and worthwhile vision of working with children in poverty to reality, hence the establishment of Mr and Miss East Africa UK. Both pageants campaign and fundraise for East African children's charities. "Although this is all for a good cause, there are several obstacles along the way to be overcome", she revealed. In pursuing her dream of giving East African children a voice and a chance for a better future, she is certainly prepared for both obstacles and opportunities by remaining imaginatively flexible and optimistically open to fresh and unexpected ways of achieving the essence of her vision.
Through her pageants she has opened doors and empowered several young East Africans living in the UK who want to pursue acting, presenting, singing or modelling as a career by putting them in touch with influential contacts and presenting them with international opportunities.
Her dream is to one day see an end to extreme child poverty in Africa and for Africa to turn their countries into children's welfare states. She hopes this dream will be realised through her campaign The SHOUT Campaign (www.shoutcampaign.com). The SHOUT Campaign is a programme that is helping to feed street children throughout Africa with an aim of taking children of rehabilitating the children. The campaign initiated FEED THE STREET CHILDREN PROJECT in Nairobi, Kenya where 600 children were fed from 13th -17th October 2008. Through feeding the street children of Nairobi the team at Mr and Miss East Africa UK hopes to create the awareness of the plight of the forgotten Kenyan children and to inspire Kenyans to give back to their communities. The beauty pageant hopes to work closely with African governments with Kenya as the starting point to introduce a system for children's welfare. Through SHOUT Campaign Pauline Long and his dedicated team of volunteers from Mr and Miss East Africa UK beauty pageant dedicated the valentines week to street children of Kampala, Uganda feeding just over 1400 children for five days between 9th-13th February 2009.
She is however on the search for lasting solutions to the pervading child and youth poverty all over Africa hence the establishment of the biggest all African reality TV talent show set to take place in Kenya, Africa's World Best (AWB) – www.africasworldbest.tv . Africa's World Best reality TV talent show's main mission is to develop Africa, promote tourism in Africa, create jobs for African youth, empower and reward Africans through talent. Building educational facilities, recreational facilities to help develop and nurture African talent, employment of youth through the new projects and establishments of community hospitals are some of immediate goals AWB has set to achieve. While Pauline acknowledges a handout does not guarantee a route out of poverty, she urges African leaders to prioritise the issue of child poverty and create a child benefit system.
For more information on how to get involved with AWB TV, SHOUT CAMPAIGN and Mr and Miss East Africa UK visit:
www.africasworldbest.tv www.shoutcampaign.com www.misseastafrica.co.uk