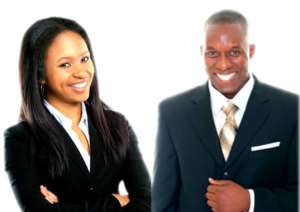 Furthermore, companies and individuals operating in the business community need to appreciate how vital it is that they develop and apply simple skills necessary to function in the business community.
First impressions last longer and this underscores the importance of two issues - corporate grooming and business etiquette.
Grooming deals with issues relating to the overall physical image presented by an individual or group of staff in an organisation. This image can either enhance the perceived impression of an individual or staff of an institution or tarnish the image.
It also covers a wide range of subjects relating to how to maintain and enforce certain aspects of the individual's physical looks.
Business etiquette on the other hand relates to mannerisms which are crucial to business. They range from business, social and communication manners in all spheres of the formal and informal institutions.
These involve proper attitudes that enable individuals to function efficiently and effectively within their assigned responsibilities in the home and workplace environment.
Kobadem, a certified image consultancy, is championing this cause through seminars. It is once more organising one to help participants in Accra, Kumasi and Takoradi appreciate the importance of good grooming and how crucial it is in projecting the right image of both the individual and corporate institutions.
The seminar is targeted at managers of various corporate institutions, human resource managers, sales/marketing managers, training managers, secretaries and receptionists, as well as men and women who are keen on improving their image.
Topics to be discussed would include Body shape analysis; Grooming etiquette; How to dress to an interview; Make up; Hair and skin care, as well as Combining your dress and suit well.
Others are Projecting the right workplace Image; Business etiquette; Dining etiquette and Unconscious mannerisms.
The one-day seminar starts in Accra on August 12; Kumasi, August 14 and finally in Takoradi on August 16.
By Emma Addo-Owusu / The Mirror / Ghana

The writer is a certified image consultant and provides training in personal grooming and workplace etiquette.Email: ' ); document.write( addy76477 ); document.write( '' ); //--> This e-mail address is being protected from spambots. You need JavaScript enabled to view it . Mobile:0206471765